NEW YORK CITY - I was interviewing a tech CEO recently and asked him what his favorite gadget was. "The Kindle," he replied without hesitation. He is not alone. Amazon.com's electronic reading device is quickly developing an enthusiastic fan base. The digital device, which allows users to download books, magazines, newspapers and blogs wirelessly, retails for $399. It sold out almost instantly after its debut last November. Amazon has since re-stocked and is featuring the product prominently on their home page.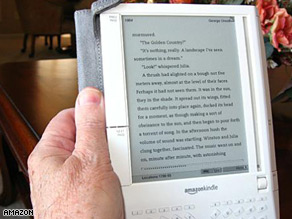 The Kindle is the latest must-have gadget.
Can the Kindle could do for Amazon what the iPod did for Apple? It is certainly generating some serious buzz. This week Goldman Sachs analyst James Mitchell put Amazon on his recommended list and raised his price target, in part on the sales potential of the Kindle. Mitchell points out that Amazon's sales growth last quarter matched that of Google.
Another firm, Citibank, reckons the Kindle could make of 3 per cent of Amazon's total business by 2010. I say "reckons" because right now these are all just educated guesses.
To the irritation of many, Amazon is being very tightlipped about actual sales numbers. Maybe they are afraid of the competition. Their online music store, which launched after Apple's iTunes was already established, never managed to catch up. Amazon, no doubt, does not want to make the same mistake in publishing.
Right now the Kindle has an early advantage. While it is rather ugly to look at, its memory, quick downloads speeds and easy to read wide screen appear to be winning people over. The question is: will we embrace digital books the same way we embraced digital music?
I was a little skeptical at first. It is hard to imagine we would have another break-out device like the iPod. Plus, I have a sentimental attachment with books that have been given to me over the years. The more thumbed through and worn, the better. For a long time I had more bookshelves than any other type of furniture.
But things change. A growing family means I have less space and time. The more I think about it, the idea of having old favorites and new releases all on one handy little device is extremely appealing. Being able to wirelessly download papers and magazines is also a big plus.
Dave DeWalt of McAfee, the tech CEO I mentioned earlier, said one of the favorites things on his Kindle was his daily subscription to his hometown newspaper - something he could never buy at a store.
Amazon CEO Jeff Bezos thinks the Kindle offers more than just convenience. In his most recent letter to shareholders, Bezos said he hoped the Kindle would help improve people's attention spans and offer an alternative to Blackberries and smart phones which have turned us into "info-snackers."
I am not sure I buy into that. I am fairly sure it is my hectic life and not my Blackberry that is preventing me from reading more novels. Still - a device which makes it easy for me to carry around hundreds of titles might help me get back on track. I have certainly bought a lot more music online then I ever did in a record store. But you can listen to music while doing other things. You still need to sit down and find time to read, even if it is on a small little machine.
What do you think info-snackers? Does the Kindle have the potential to be the next I-pod? Would owning an electronic reading device encourage you to buy more books?