LONDON, England – There was something different about this protest. It just wasn't what I expected from a bunch of truckers gathering in central London to protest the high cost of diesel.
It began in much the way I thought it would: truckers honking their horns, waving placards, holding banners that said, "OUT BROWN." It looked like any other rally, any one of the colourful protests you frankly, see quite often on the streets of London.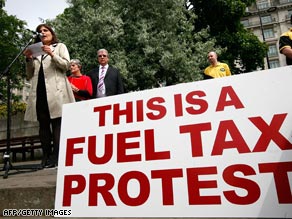 Sharon Knight delivers her emotional speech.
Then the speeches began. I leaned in to listen. Not because of what was being said (diesel prices are too high, the government is no good, our industry is being wiped out etc etc) but because of who was at the podium, and the passion with which she spoke.
Yes, she.
I admit my surprise at seeing a lady in black patent leather stilettos lead the speeches at a truckers protest. I was even more surprised when Sharon Knight, part of a family run trucking business, couldn't hold back her tears.
Diesel in the UK now costs up to $2.60 a litre. Guess what that translates into across the Atlantic? Roughly $9 a gallon! Almost half of that cost is tax imposed by the British government. Truckers are paying around 35 percent more to fill up their vehicles diesel from last year, forcing many to shut shop.
Sharon was one of the people who took a letter to Downing Street, calling on the government to help. Of course Prime Minister Gordon Brown can't bring down the global price of oil, but what he can do, say the truckers, is cut taxes on fuel.
It's getting late, Sharon told us. If the government doesn't step in soon, many transport and haulage companies will be out of business. They'll lose their incomes and a way of life. The only way of life many of them know. It's easy to understand why Sharon couldn't hold back her tears.