TOKYO, Japan – The scene is uniquely Japan: Techno-freaks dressed up like cartoon characters, young women dressed like maids and superheroes, and even a dancing storm trooper.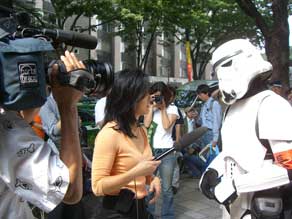 Me interviewing our stormtrooper.
They'd gathered early this Friday morning for the latest tech event: The release of the new Apple iPhone 3G in Japan.
Some 1,500 people camped out overnight through a hot and humid Tokyo summer, but that's hardly a sacrifice, to finally get their hands on the iPhone.
But here's what's unique about this latest tech gathering: The device is American. Made in Japan? Where did that familiar stamp on the back of your electronics go?
While these techies lost one night of sleep camping out for the device that promises portable device nirvana, Tokyo's corporate executives have been losing sleep for months wondering why they didn't invent it first.
In a recent lunch with the Ministry of Foreign Affairs, a good source moaned to me about the state of Japan's electronics market and how it was falling behind.
Why? Items like the iPhone represent, in many ways to the Japanese boardroom, the symbol of the new era of doing business.
Apple and Google are taking not small steps, but leaps and bounds in innovative technology. Japan, once the unchallenged ruler of the world's consumer electronics market, now watches as the Western world schools the East. Remember Sony's Walkman? Neither does anyone who wants an iPhone.
The debate is raging in Japan's government halls and in its corporate pikes. Bloggers are suggesting a coup of Tokyo's grey haired boardrooms so Japan can break from its rigid business rules. Others suggest that slow and steady, like Toyota's model of "kaizen," incremental improvements, wins the game.
There are no such debates on the streets outside of the virgin sales of the new iPhone in Tokyo.These weirdly dressed consumers are merely punching the air with joy, pronouncing a new digital era has finally arrived in their hands. The excitement here is being repeated all over the globe and celebrated in an American company. It's a party Japanese companies know all about. They're just not leading this one.