Will investors scare of Russia? Get real. Why would any company already in Russia pull out over a quick regional conflict?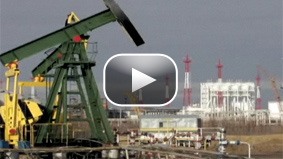 Any person or company that has already invested there knows the risks, and many have done extremely well.
Some facts.   Russia has vast energy potential. Oil companies are not going to ignore that. Its auto market has surpassed Germany to become Europe's biggest. GM for example has nearly 10 percent of the Russian market and will open a new plant in St. Petersburg in the autumn.
Sure, there is TNK-BP. But analysts stress to point out that it is a boardroom spat that could happen anywhere and does not involve the Kremlin. While BP is battling with its oligarch partners, the London-based oil giant still makes a lot of money from its joint venture.
Now, the recent conflict in Georgia will surely give pause to those not brave enough to have already invested in Russia. Add to that the nearly 27 percent fall in the country's main stock index since the highs of May (thanks in part to the fall in oil prices.)
As Russia grows in confidence and uses its might, in the boardroom or elsewhere, western funds may choose to put their money elsewhere. The recent fall in commodity prices might mean Russia loses its appeal. Others feel it's a great time to bottom feed on a few Russian stocks.
Either way, companies are going nowhere.
Russia has reformed in tax and customs laws to attract foreign investment. Not that it needs it much. In June, Russia posted a near $19 billion trade surplus. It is using its oil wealth to invest outside the country. A reason, some say, why the Kremlin is not shy about flexing its military muscle. That of course could change if oil prices continue to fall and with that, might go Russia's boldness.
Of course companies are often asked why they invest here or don't pull out of there.
Myanmar and Zimbabwe are perhaps more extreme cases. Still a press spokesman from Barclays Bank said to me it doesn't ask people their politics when taking deposits in Zimbabwe (or anywhere else for that matter.)
When asked about some other conflict, BP said to me, "We don't do regime change."
Companies invest in all kinds of unpalatable places despite pressure to set some sort of example. Russia would have to go a long way before firms think twice.
Watch my report on investing in Russia