You could call BAA the Microsoft of London's airspace; some 90 percent of all flights in and out of London go via one of its three airports - Heathrow, Gatwick and Stansted, while the company also owns Scotlands three main airports and one at Southampton, on England's south coast.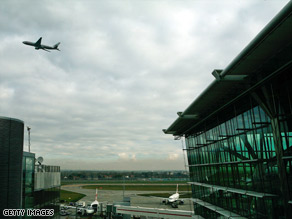 BAA is reluctant to sell any of its airports.
Virgin Atlantic and Ryanair have been complaining for years about poor service at London's airports.
They say BAA spends too much money, time and effort on Heathrow and, axiomatically, its biggest customer, British Airways (just look at Terminal Five).
Virgin wants more money spent on Gatwick while Ryanair wants to see Stansted renovated in a way that caters to the airport's predominently low cost carriers.
UK watchdog the Competition Commission agrees and wants BAA to sell off three airports, two in London and one in Scotland. A final report comes next year, but it wants these airports sold in 2009.
If you have flown through London, you can certainly understand the frustration of airlines and passengers. We have all circled over London because Heathrow is overcrowded while Stansted and Gatwick sit nearby. BAA says airlines and passengers want to use Heathrow since it's the UK's only real hub (you can catch connecting flights to anywhere without leaving the airport).
Critics say BAA has no incentive to create a competing hub. Now, it looks likely that a new airport operator could... if it makes sense.
By this time next year, BAA could be forced to put these three airports up for sale. No group will be allowed to buy more than one London airport, so Heathrow, Stansted and Gatwick will eventually compete with each other.
BAA says its nonsense. It says London as a whole competes with one airport in each of Paris, Frankfurt and Amsterdam. BAA admits the service at its London airports frustrates many customers, but blames most of that on the government for delaying new runways at Heathrow and Stansted. It will be years before those are built, if ever.
BAA will probably fight this, but it has few friends. The government is likely to promise prospective new owners that they will get more runways. However, if you are a regular flyer through London don't expect much relief before 2015 at the earliest.