EDGEFIELD, England – "Hi there. I've got some cooking apples here from the garden for you"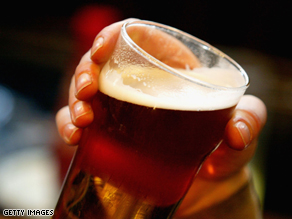 Goods can be traded at the bar for drinks or cash.
"Great, I'll get the chef to have a look."
This is the new recipe for success in rural Norfok. Bartering. Sound Medieval? I guess it is, kind of. But the fascinating thing is, it works.
It's quite simple. Got some windfalls from the garden? Got a brace of pheasant you just don't know what to do with? Then head on down to the Pigs Pub in Edgefield and you can trade your fruit, veggies and game for food and drink.
Chef Richard Martin weighs up the quality and quantity of your offerings and the price he offers you can be knocked off your bill.
They've actually been bartering at the pub for two years, but it really took off when people started worrying about the economy.
Rebecca Callister comes in for a chat with her sister who works in the pub. For her cooking apples she got a large glass of wine.
"The economy is a big factor. But it's nice to bring in fresh produce and see what the chef will do with it."
And of course, she gets a "free" drink which would normally have set her back at least £3.50 ($6.20).
For another lady, in with seemingly the entire contents of her back garden, the chef hits on a price of £10. That's a decent whack off her dinner bill.
It's not just fruit and veg. They've had their fair share of dead livestock too. One punter brought in pig testicles which apparently went down a treat, though they're not allowed to barter them any more because of trading standards laws. But rabbits, pheasants, grouse - all of that is fair game - if you'll forgive the pun.
I tried my own hand at it. I have to admit it was more of an academic exercise: I didn't go shoot myself a rabbit and a bird, I relied on a high quality game butcher in London for that. I had to pay £20 for a rabbit and grouse - fully furred and feathered.
What I got was a pint and £1.50. Okay, so that wasn't exactly going to cover the expense of buying them in the first place and the petrol of a long car journey to Norfolk - but if I had caught them myself in a rustic hedgerow in Norfolk, I'd have been in the money.
That's the point. It costs you nothing as a customer and you get something in return. And the pub loves getting the really fresh produce. Plus, there's a nice relationship building up between the customers and the pub.
As bar lady Rachel Callister points out, "you can meet the person who shot the pheasant at the bar and maybe have a chat!"
Whatever rocks your boat.