NEW YORK - As I sit here at the end of this unbelievable week I find it impossible to write anything intelligent about what just transpired. Too much happened too fast for me to be able to process it. And I am hearing the same from many others who watch or trade the market for a living. So instead I am going to pose a series of questions that are being asked here.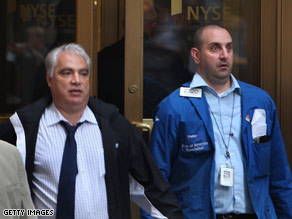 Employees leave the New York Stock Exchange on Friday after a tumultuous week.
Did the United States just take a huge step toward socialism? That is a dirty word here on Wall Street, but the many believe the government's historic intervention amounts to just that ... and they are not happy about.
Will more rules and regulations help, or will government involvement just stifle enterprise and business growth?  Many here cite Europe as the example of what NOT to do.
Should taxpayers be stuck paying for Wall Street excesses? What about the bankers who made millions trading risky mortgage-related debt that has now gone belly up. Yes, some of them have now lost their jobs, but many made off with a king's ransom. Should we change the way we pay executives, maybe tie them to long-term goals rather than share price and short-term profit?  
Were speculators really responsible for bringing down Lehman Brothers and forcing Merrill Lynch into a shotgun wedding with Bank of America? The regulators in both Great Britain and the United States have banned short selling, but hedge funds are furious. They say they are being made scapegoats and argue the data does not bear out the accusation. They also warn the ban won't fix the problem, merely create new ones. In fact, the hedge fund industry is thinking of suing!
And maybe the scariest question of all, what if this doesn't work?
Many experts here in the United States say we were hours away from a run on banks that would have plunged the global economy into depression. Not recession. Depression. And not just the U.S. Make no mistake, there was panic. Money managers with years of experience were telling me they simply did not know what to do, or where to turn. That may explain why the biggest group of free market advocates are embracing the biggest government intervention since the 1930s.
As I watch the bell close out this wild week on Wall Street, I detect a certain frost. The U.S. government saved the system from collapse and yes the business community is relieved. But they also understand that U.S. Treasury Secretary Henry Paulson and Federal Reserve Chairman Ben Bernanke do not have magic wands, and problems remain.
Do you think the plan will succeed? Would the global system be better off if the U.S. took a page from Europe and got more involved in regulating business?