PARIS, France – The press preview days of the Paris Motor Show are history and the now it's the turn of the public to decide which vehicles catch their eye the most.  For many in the media, it was hard to look beyond the global financial crisis. The day before the show, GM announced sales of light vehicles in North America fell 16 percent while Toyota reported a 32 percent fall and Ford 34 percent.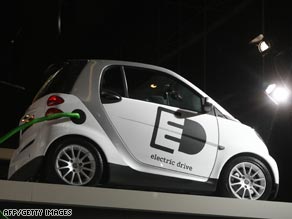 The talk here was about electric cars.
The CEOs I interviewed were not afraid to talk about had bad things are. Renault-Nissan chief Carlos Ghosn said there was no point discussing an out outlook for 2009 when he has no idea how next month will go. Even some of the super luxury makers, like Bentley, admit their end of the market is bad. So it is right across the board.
But car shows are about the future. And talk here was about electric cars. Nearly every carmaker has a hybrid (though not the super luxury brands of course) so the newest push is electric. General Motors, Nissan, Toyota and Smart all vow to have a mass-market electric vehicle on the market by 2010. Some are for any customer, some just for fleet vehicles, but the point is many people should be able to buy a car that runs only on electricity in less than two years' time.
Not that the Chevy Volt or the Nissan Nuvu will solve the credit crisis.
I was asked by one anchor why Americans should care about a car show in Europe. The answer is two-fold. Ford and GM rely greatly on sales from outside their home market. That can not be overstated. If recession spreads and people in places like Russia, Brazil or China slow their car purchases, then the American carmakers will be in even more trouble.
Secondly, these small European-styled cars stuffed full of features might sell well in the U.S. While Ford and GM aren't going to import the cars themselves, they plan to build these small cars in places like Mexico, they are importing the notion that people will pay more for a smaller car. Instead of designing a whole new car just for American buyers, these cars have great gas mileage and could lure customers back into the showroom. That is, of course, if they can get a loan.
Watch my report on electric cars at the Paris Motor Show
Watch my interview with GM President Fritz Henderson