REYKJAVIK, Iceland - I arrived in Iceland a few hours ago to find a country in shock. Two of its big banks are in state control, its currency has collapsed, and it is asking Russia for more then $5 billion to prop up the island's financial sector. Its prime minister was the first leader of any country to confess that the global credit crisis could bankrupt the country.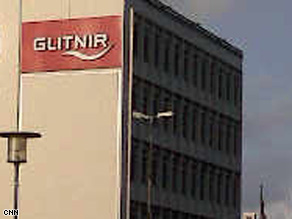 Glitnir, one of Iceland's biggest banks, has needed a government rescue.
As happens in any country when you parachute in, the driver who took me to my hotel was all too happy to fill me in on where it all went wrong.
Iceland went on a lending binge - sound familiar? Cheap credit, rising house prices and bank shares soaring. Iceland's population of less than 300,000 never had it so good. Until now.
Why should the rest of the world care?
First, Iceland could be a sign of things to come. When the first bank to collapse, Glitnir, was taken over by the government, banks outside Iceland cut back on loaning to the country's other banks. The credit crunch became a credit freeze.
The prime minister admitted on national television Monday night that the banks had grown to about 10 times the country's GNP. There is no way the country can bail them out. What if that happens elsewhere? Governments will surely see how Iceland's economy reacts.
Second, Iceland's super-wealthy families went on a buying spree. From Debenhams to House of Fraser to Hamleys to the West Ham Football Club, the wealth of this once fish-exporting nation was invested in Britain. Thousands of employees and hundreds of shops across Britain are tied into Iceland's economy. Bank lending or strong bank shares were behind it all.
Third, Iceland's banks had higher than normal interest rates, which attracted thousands in Britain to stick their money in places such as Icesave, an Internet bank. As of Monday night, their accounts were frozen.
We will spend the next few days talking to people here. At first blush, the blame is being put on those who spent the past few years building up portfolios on the back of rising property prices, driving around in super luxury cars (something apparently unheard of even five years ago in this very Nordic nation which prides itself on egalitarian principles) and taking money off shore.
With the currency so weak, and with so many mortgages taken out in foreign currencies, the fall in house prices has really hit hard.
Some people are at least hoping that the weak kronur will bring in more tourists. Maybe consumers from the Nordic and Scandinavian countries that used to benefit from Icelandic shoppers with a strong currency will instead come this way for and help out this nation.