OPPAMA, Japan – The town of Oppama is about as far away from Main Street, USA as you can get. Virtually nothing here resembles anything American, except for a lone McDonald's on the corner. But stop and talk to 78-year-old fish-shop owner Kohei Ishiwata and he'll wax poetic about the U.S. credit crunch.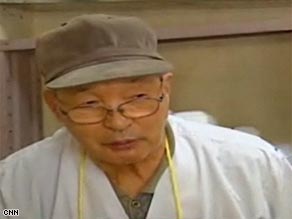 Kohei Ishiwata waxes poetic about the U.S. credit crunch.
"They made fake money out of thin air!" Ishiwata exclaims, inbetween slicing up thick chunks of fresh sushi.
Step next door to Yuji Fujita's vegetable shop and he'll teach you a thing or two about trickle down economics, Japan-style. "I hope the U.S. economy improves. They're a big influence for us," he says, his 20-month-old son sleeping in the corner of the grocery store that's been in the family for three generations.
The influence is everywhere on Oppama's main street, which relies on the robust appetite of Main Street, USA. Oppama is home to a major Nissan plant. It's the area's primary employer and every part of life here is connected to the automaker.
But automakers are taking a huge hit from the U.S. credit crunch and the global economic slowdown. U.S. consumers, the primary customers for Japan's auto industry, are buying fewer Japanese vehicles. Already inside the Nissan plant, workers tell us they're worried the ax could fall on their jobs at any moment.
But the Oppama businesses that live off the Nissan paychecks also worry about the secondary impact. Oppama fears it could pay in a general slowdown to its community's economy
The financial meltdown is undoubtedly a banking crisis and a market rollercoaster. But it's more than just tickers at the bottom of TV screens and money being moved around in central banks. It's a global problem being felt in neighborhoods around the world.