When it comes to investing, timing is everything. It may be true for the music industry as well.After an eight year hiatus Australian rock bank AC/DC has exploded back onto the world stage. Their new album "Black Ice" has debuted at the top of the charts in 29 countries.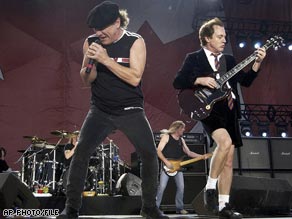 AC/DC are known for rocking recession.
The band kicks off a world tour in Wilkes-Barre Pennsylvania this week. Not since their mega-hit "Back in Black" 28 years ago has the group enjoyed such success. Back then, many countries were mired in a recession. In hard times, it seems people need some hard rock.
I haven't had a chance to listen to the album yet, but the song list seems well-suited to a time of turmoil: "Anything Goes," "Smash N Grab", "Spoilin' for a Fight," "Money Made."
Interestingly, AC/DC is sticking by its policy of shunning Apple's iTunes. "Black Ice" is being sold exclusively through Walmart and on the band's Web site.
It is a risky move in this digital age, but it seems to be paying off. The album has sold almost 800,000 copies in the U.S. alone its first week.
The concert tickets are selling fast as well. The cheapest I saw for tonight's kick-off were over $90.
With all the worries about recession and consumer spending, it seems people are willing to pay for some escapism.
Is rock 'n' roll your idea of therapy? What is the soundtrack do you think best represents these uncertain times?