KISHIKAWA, Japan - You have to look pretty carefully for the straight-out good news when it comes to the global economy.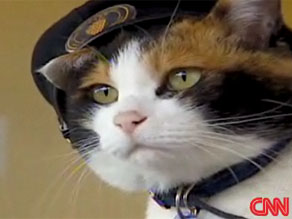 Tama the cat, in her conductor's hat.
We had to travel six hours outside of Tokyo to end of a country train line to find it. I should say find her, because to call Tama the cat an "it" might throw the town of Kishikawa into an outright upheaval.
Kishikawa is quite protective of Tama, for the little cat has singlehandedly boosted its local economy last year by more than $10 million. That is U.S. dollars, in case you're wondering.  Watch my report on Tama the cat
Tama's strange tale begins a little more than a year ago, when the Wakayama Railway heard about the friendly cat hanging out at its train stop.
The railway gave Tama the title of "Super Station Master" and built her a cushy home at the train stop. She got her own custom-made conductor's hat. The rail line started putting the cat in the hat on its posters. And a star was born.
Japan, whose official ambassador is Hello Kitty, went wild. Japanese television aired specials on the special cat. A day-in-the-life book and documentary quickly followed. The tourists started coming, traveling hours upon hours by train, carrying fistfuls of cash and buying up the town's new Tama merchandise with vigor.
Kishikawa is defying the odds: Seeing a boom in its local economy amid a national and global slowdown.
The town's Buddhist monk calls it an "accident of life" and suggests other small towns look inward to discover what's special about them.
But why did this happen in the first place? Are the Japanese that cat crazy? Perhaps, but the truth may be a little more complicated.
A businessman who took the day off work to travel hours to get a photo with Tama told me it's a chance to take a break from all the problems facing Japan. For just a few hours, he said, it's a chance to disconnect and enjoy a little town that's seeing unusual and unexpected success.