MUMBAI, India – There are few things in India and about India that startle me. I am Indian, I grew up here, and am used to the peculiarities and paradoxes that lurk around every corner.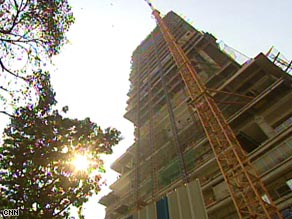 The 27-story structure towers over Mumbai's slums.
I certainly wasn't expecting a recent assignment – a seemingly straightforward news story on property in Mumbai – to stop me in my tracks.
I didn't have too much time to take in what I was seeing before cops appeared from nowhere and pushed cameraman Sanjiv and myself away.
"No, no shooting allowed here." "Why?" we asked. "No, no, now wait for our supervisor."
Before the supervisor arrived – possibly to take our tape away - we jumped into our waiting car and drove off.
The cops scribbled our car number down. But we had got what we needed - footage of industrialist Mukesh Ambani's private residence being built on Mumbai's prestigious but very average looking Altamount road.
Staring at the 27-floor structure (I believe it's as high as a 60-story building though) I wondered where the two helipads would be. Which floor would be the pool be on? How many cars could the six floors of parking fit? How many staff members would wait on the family of six?
And the cool chamber with fake snow flurries to keep the wife cool in the Mumbai heat – now where would that be? And – is any of this true?
For now, we only have media reports to go by - and they put the cost of this private tower in the sky with all its facilities and fittings, at between $1-2 billion.
As Sanjiv got his shots, I watched laborers on the scaffolding - banging away, building away. Men and women who probably earn a few dollars a day to make someone's billion dollar dream home a reality.
"It's just unfair, unjust," said Dr Uday Mehta, a passionate social worker who is part of Mumbai's Committee for the Right to Housing. "It's just plain ugly."
How can he live like that, asked Mehta, as he walked us through a crowded and filthy shanty town – look at how the rest of Mumbai lives.
Is Mukesh Ambani's decision to spend the money he has earned on a flashy residence wrong, given he lives in a city where 60 percent of the population lives in slums? Or should he be allowed to spend his money, earned from his business empire, however he wants?
Does a man of his stature and his wealth have to think about what others think of him? What do YOU think? Share your thoughts!