LONDON, England - As you contemplate that question, remember that Ryanair is not just a "low-cost" airline or a "no-frills" airline. It is one of Europe's biggest airlines, full stop. It will soon operate a fleet of 195 planes. Most of its competitors have been forced to rebuild their business models to emulate Ryanair, so the line between "budget" airlines and the rest is blurred. Beyond maybe British Airways, Lufthansa and Air France-KLM, the rest of Europe's carriers are dressed up as "normal" carriers but their service is closer to Ryanair or easyJet than they would admit. Aer Lingus is one of them.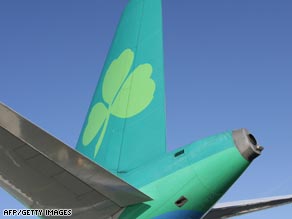 Shareholders must decide what kind of airline they want Aer Lingus to be.
Frankly, if you think of Ryanair as one of the few successful carriers and Aer Lingus as a loss-making dinosaur, then I go back to the original question. Does an island of 4 million people need two carriers?
Watch my report on the Irish airlines
Ryanair's Michael O'Leary of course thinks not. That's why he has launched another bid, and this time is half the value of his first offer two years ago. That may be why the Aer Lingus board so quickly rejected the offer. But it's not up to the board. It's up to the shareholders. O'Leary has nearly 30 percent of Aer Lingus shares. The Irish government has around 25 percent. So, Dublin and the regulators in Brussels may not react so quickly, this time. Consolidation is moving apace throughout Europe, finally. The threat to European airlines is too much capacity, not fewer airlines.
BA's Willie Walsh predicted 30 airlines would go out of business this year. This morning, an airline analyst said on the radio the number has hit 25. Yet AirAsia has just announced a long-haul low-cost flight from Kuala Lumpur to Stansted. Stansted is one of Ryanair's main hubs. British Airways is trying to merge with Iberia and tie the two tightly with American Airlines, if the U.S. authorities finally allow that. So, strong airlines appear to be getting stronger. Ryanair and easyJet will face more competition all around. O'Leary says that will work in his favor when it comes to the regulators.
Last week, AirAsia's Tony Fernandes predicted the aviation world will split in two: big international carriers that cater exclusively to those willing to pay to sit in the front of the plane, and all the rest. If he is correct, then Aer Lingus shareholders will have to decide which side of the line the carrier with the shamrock can afford to become.