I did an interview this week with a CNN regular, Sam Stovall, who said one of the main problems facing the markets and economy is a loss of confidence.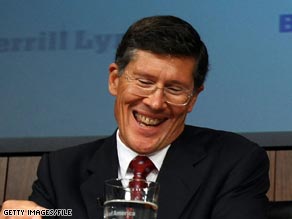 All smiles from Merrill Lynch CEO John Thain after the firm was taken over by Bank of America.
Investors can't make sense of the markets which swing wildly from day to day. Workers don't feel secure in their jobs. Families aren't sure how they are going to find the money for healthcare and education. There is a sense the system isn't working.
And yet, in the corner offices of corporations, it seems to be business as usual.
Auto executives are trying to hang on to their jobs and in some cases, multi-million dollar salaries, even as they beg for an 11th hour taxpayer lifeline.
Monday, John Thain, CEO of Merrill Lynch, gave up attempts to get a $10 million 2008 bonus, but only after unflattering media attention.
Tuesday Fannie Mae and Freddie Mac executives appeared in front of Congress and defended both their actions and payouts, despite the fact that the near collapse of both mortgage giants almost wiped out the U.S. housing market.
Another testy hearing that turned into little more than a public blame game.
It is no wonder why people have lost confidence and lost faith.
Where are all the good CEO's? Bosses who put their companies and their employees first.
Surely, there are hard working talented executives out there who can be held up as an example of what real corporate leadership is. Not the sorry symbols of greed and corruption that are in the spotlight now.
Do you know someone who fits the bill? A boss or a manager who is finding creative ways to survive and even thrive in these tough times? Write in and tell us their story. I, for one, could certainly use the inspiration.