LONDON, England – In life, there are always decisions you want to keep on putting off. In my case, the one that always stresses me out centers on the heating oil tank in my garden.
 It's no great beauty - a big green plastic job that could probably swallow up two entire bedrooms in one of those Japanese capsule hotels, but which apparently holds 2,500 liters of fuel.In these days of wildly fluctuating crude prices, working out when to fill the wretched thing is a task requiring the greatest wisdom, calculation and foresight.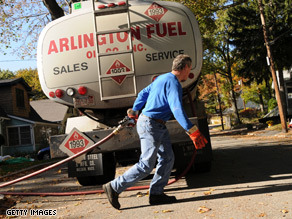 The seesawing price of oil has given consumers worldwide much to consider during 2008.
It is not helped by the fact that the local company with which we have a supply agreement employs a high-pressure salesman to answer the phone, quote the latest price per liter and coax customers into buying as many liters as possible.
His strong-arm tactics probably earn him an annual bonus which would not disgrace an oil company mogul.
What he knows is that those of us who use oil to heat and cook in the winter (I know, not desperately environmental, we have no mains gas supply but do have a solar panel and turn the oil off for six months each year) can imagine nothing worse than being stranded with an empty tank just as the extended family descends for the holidays and Jack Frost starts to tighten his wintry grip.
Desperate + gullible = ripped off. Game on, I thought last April. I cheated the man on the phone at the oil company of a few pounds in bonus by refusing to buy a full tank of oil at what I felt to be an inflated price of 51.5 pence per liter (around 65 euro-cents or US$1.03).
Instead I persuaded my skeptical wife to order a mere 500 liters, on the basis that this would be enough to last until nearly the end of the year, by which time (I said, crossing my fingers) crude prices would be way back down again from around $110 a barrel and heating oil would be way cheaper.
Over the summer, I chewed my nails as crude rose majestically to $147 a barrel, taking my wife's eyebrows up with it. I could see that I was going to be saddled with yet another financial clanger, my eternal optimism (see last week's blog) dragging the family budget and my personal credibility down with it.
But then my bet started to pay back. Crude prices slid and slid and slid, all the way down to around $40 a barrel.
I started to dream of a holiday in the sun on the basis of all the money we had saved by holding back on buying oil and waiting for the price to drop; after all, if the price drops 10 euro-cents, that's a saving of €250 on a full tank. If you go away to somewhere sunny, you're not even consuming any oil!
Then, out of the blue, my wife rang me at work. The oil in the tank was getting dangerously low and would only last another week.
It might run out just as... well, this is nearly the week before the holidays and you can guess the rest.
But luckily, she told me, she had spoken to the man at the oil supply company and he would fill our tank for 37.5 pence a liter. I sighed.
The connection between crude prices and the price of heating oil to consumer dorks like me is actually more tenuous and delayed than you'd think.
Even so, I valiantly weighed the odds. On the one hand, crude demand is falling, and will probably fall further as the global economy struggles to shake off recession next year.
On the other hand, petroleum prices have been underpinned by OPEC's determination to tighten supply; Saudi Arabia, the "swing producer" in the producer cartel and its biggest player, is already rumored to be cutting the amount of oil it exports.
In the end, the salesman won - more or less. My wife rang around, got a lower quote, called him back and got him to match it.
So next week the truck will roll up, the man will jump out and run out his hose to the green plastic thing, turn a switch - and we'll be warm and cosy over the holidays.
We'll also be £900, or $1,340, poorer off. So were we robbed? Should I have held on, maybe bought another 500 liters (at a slightly higher price; the salesman knows his job)? Or was I right to get my personal big oil deal out of the way before OPEC tightens demand? What do you think? How have changing oil prices had an impact on your life? Post your questions and comments below, and we'll put them to an expert on Friday's edition of Business International. (It's helpful if you also say where you are writing from.)  And here are some answers from Philip Sellwood, chief executive of the Energy Saving Trust