NEW YORK - As I was walking home from work the other night, I was saddened to see yet another restaurant in my neighborhood closed down.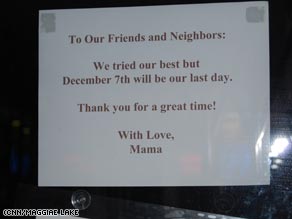 Sign of the times for Mama.
A typed note was posted on the door.  "Dear Friends and Neighbors, We tried our best, but December 7th will be our last day. Thank you for a great time! With Love, Mama"
The global financial crisis has been unfolding for months now, but the damage to the real economy is more and more visible. And it is more personal.
I felt for the owners when I read the line, "we tried our best." I imagine this was a dream of theirs to open a restaurant. In better economic times they just may have succeeded.
But this is a harsh environment where even big companies are struggling. A few doors down from Mama, a larger clothing chain, puts a sign out everyday offering Big Sales! It is not about profits these days, it is just about survival.
I spend my days trying to explain the complicated issues involved in this global financial crisis, but sometimes an image tells the story best. Right now, when people ask me how the U.S. economy is doing, I think of the shop with a gate across the front and a "for rent" sign in the window.
What are you witnessing?  What is happening in your town or city that is a sign of these economic times? If you can, send us a photos and video along with your post. It may be a sign of just how tough things are...or maybe you are seeing signs of hope or humor.  We want to know.  Send your photos, videos and stories to iReport.com