HONG KONG, China – Pet lovers! What's the best way to cut your pet's expenses without compromising its health and happiness?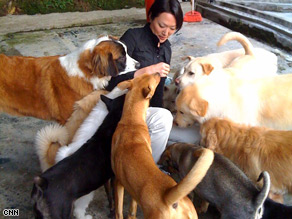 CNN's Eunice Yoon meets some of the residents at the Hong Kong Animal Adoption Center.
I spent an afternoon recently at the Hong Kong Animal Adoption Center where I met Bobo, a dog who had been abandoned by his owner of 14 years.
Rescuers told us Bobo's owner, an elderly lady, had lost her job and had to move into a smaller home with her son. The family of three was incredibly distraught when they dropped Bobo off at the center. Apparently, their new apartment building wouldn't allow dogs.
The family also, according to the rescuers, just couldn't afford taking care of Bobo anymore. They begged the center to take him in. "It was him or us," they explained.
After he was abandoned, rescuers say Bobo stopped eating and drinking. His fur started falling out and he would constantly gnaw at his paws out of nervousness. Bobo had "given up on himself."
Bobo is now adjusting to his new life at the center. However, abandonment is a stressful ordeal often for everyone involved.
So do any of you have tips to help keep more pets and their financially-strained families together?