LONDON, England – It never rains but it pours.  Hot on the heels of last year's financial turmoil came the revelation that the New York hedge fund manager Bernard Madoff had said that he had run a giant Ponzi scheme, allowing him to defraud investors to the tune of $50 billion.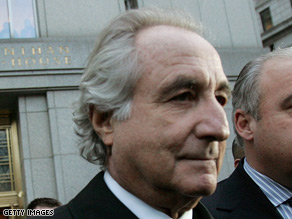 Bernard Madoff is accused of a mulit-billion dollar fraud scheme.
Little by little the details have been coming out in the past few days as regulators and now U.S. legislators get to work on their investigations - but the fact is, we will probably never ever discover the whole truth about how much was ripped off, or where Madoff, a former chairman of Nasdaq, has squirreled it away.
That staggering headline number may be as bogus as Madoff's promise of generous and genuine returns: 12 percent a year. We have only Madoff's word for it, and his word is worth less than ... well, you can insert your own well-chosen words here.
Meanwhile, the ninepins are falling.  A charitable trust.  An Austrian bank.  Several wealthy individuals.  All brought to their knees because they trusted a man likely to go down as the greatest fraudster of all time.
Of course, none of this is directly related to the brutal falls suffered by global stock markets in 2008, the collapse of leading investment banks or to the U.S. housing bust that triggered both those events.  But they and the Madoff scam would never have been possible had it not been for the willingness of sophisticated and responsible adults to cast aside wisdom and experience and to be taken in by the lure of money - to forget that if a thing seems too good to be true, it probably isn't.  Even at the height of the bull market, which reputable fund manager ever promised 12 percent returns?
And of course regulators have once again failed in their task of nailing the untrustworthy and their dubious practices. We are left with the gullible in pursuit of the negligent as well as the fraudulent.
Bernard Madoff, we are told, is cooperating with investigators, falling into line with a court-ordered deadline of December 31, 2008, for him to submit a list of assets, liabilities and property to the U.S. Securities and Exchange Commission.  But so far he alone has been charged, though it seems hard to believe that he ran so extensive a scheme without the support of at least a few confidants.
Not everybody who invested in the Madoff funds lost money. By the very nature of a Ponzi scheme, anyone who took their money out before the scam collapsed would have made the promised mint. But by the same token they have in effect become accomplices of Madoff, or at least fellow profiteers.
This one will run and run; it's probably the first big financial story of 2009.
 What do you think? Is Madoff solely responsible? What consequences should he face, along with anyone else who contributed to the fraud? And should investors who made money unfairly from his Ponzi scheme be forced to help bail out those who lost out?
Given that any returns would have been purely the fruits of fraud, are any investors entitled to anything more than the money they invested in the first place?
Post your questions and comments below, and we'll put them to an expert on Friday's edition of Business International. (It's helpful if you also say where you are writing from, and please confine your comments to the Madoff affair.)