NEW YORK – Steve Jobs, the CEO of Apple Computer, finally went public Monday about the rumors surrounding his health.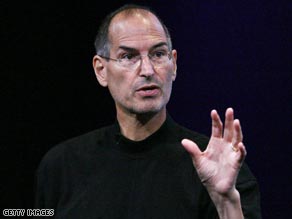 Jobs has been the keynote speaker at MacWorld for the past 10 years.
In a letter to the Apple community Jobs said a hormonal imbalance is the cause of his weight loss and that "the remedy for this nutritional problem is relatively simple and straightforward."
Apple lovers around the world are certainly relieved to hear that. For months there has been speculation that a more serious illness was causing his gaunt appearances.
Jobs is a survivor of pancreatic cancer. The health rumors really kicked into high gear when Jobs announced for the first time in more than 10 years he would not give the keynote speech at Macworld, the annual user conference which is taking place the first week of January.
In his letter, Jobs said he decided to share this very personal news so that everyone could relax and enjoy the show. He was also no doubt feeling the pressure from investors who have been pushing Apple shares lower on fears that Jobs may not be able to continue.
It is clear from the tone of his letter that discussing his health so publicly is not something Jobs wanted to do.
In closing he writes, "So now I've said more than I wanted to say, and all that I am going to say, about this."
It got me thinking: Do CEOs have a right to privacy when it comes to health issues? When does a CEO's health stop being a personal matter and become a public issue? Many CEOs privately battle health issues including heart disease, diabetes even cancer and continue to thrive in their jobs.
Analysts have said that Jobs' situation is slightly different because he is the founder and considered the driving force of Apple's creativity. Some also say the succession plan for the company is less than clear and that puts more of an emphasis on Jobs' health and ability to serve.
In the letter, Jobs said he would be the first one to step up and tell his board if he can no longer fufill his duties as CEO. Despite that promise, I suspect his public appearance will be as important as any products the company releases in 2009.
Do you think Apple should provide regular medical updates about Jobs or should he be allowed to deal with these issues in private? Can the company thrive with or without him?
And finally, is anyone still betting Jobs makes a cameo appearance at the end of Apple senior vice president Phil Schiller's keynote? Perhaps one last thing one more time?