TOKYO, Japan - When you have too much inventory, you need to clear it out. That's fairly basic stuff of managing any business, whether it's your corner meat market or a multi-billion-dollar corporation.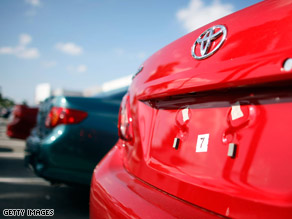 If you have too many cars, you have to stop making them.
Toyota Motor Corporation is experiencing such basics of running a business. American consumers don't feel like buying, resulting in a Toyota U.S. inventory surplus that's double what it was just one year ago. So if you have too many cars, you have to stop making them.
Toyota announced all of its 12 owned and operated factories in Japan will stop running for 11 days, spread out over the months of February and March. This rare move by Japan's number one automaker is on top of three previously announced days of work stoppages in January. For those designated days, Toyota will stop building cars.
Toyota's spokesman Paul Nolasco says the stoppages aim to accomplish two things: Bring output in line with demand and avoid more layoffs. Toyota says it will be forced to fire 3,000 temporary workers by the end of 2009, but hopes to save the jobs of full-time employees.
This was unthinkable just a year ago, when Toyota was noting record profits. What a difference a year makes. Yet industry analysts say Toyota is still better poised than its American and worldwide competitors to ride out this global recession. So if things are this bleak at Toyota, analysts say this bodes poorly for everyone underneath Toyota, including all the raw material suppliers and subsidiaries.
"The best thing about 2008 is that it's over," said Jim Lentz, president of Toyota's U.S. sales unit in a conference call announcing U.S. sales figures. It's a sentiment shared by many in Japan's export-driven economy. Unfortunately, 2009 is already getting off to a rough start.