TOKYO, Japan – The 61-year-old construction worker had walked by these sorts of people before: Bums he always quietly called them. Homeless, these men and women slept in the parks and looked as if they didn't have much to look forward to.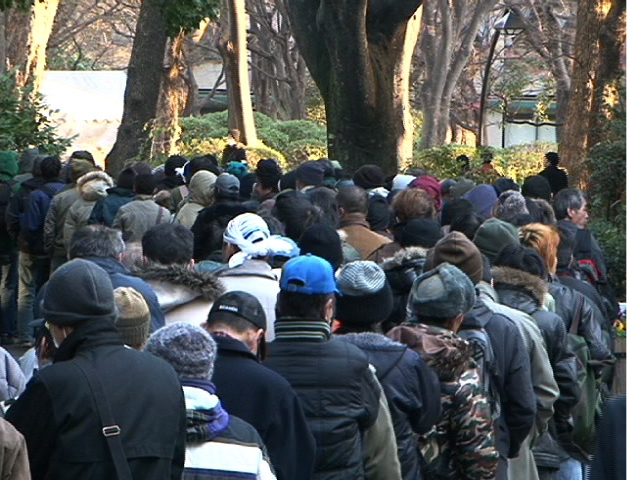 A construction worker joined a long line of people waiting for a hot meal in Tokyo's Hibiya Park.
As he now stood in line for a hot meal in Hibiya Park, the man told us he couldn't believe he was one of them.
"I wasn't ready when this happened," he said, breaking down in tears. "It happened all of a sudden. That's why I ended up here."
The construction worker, who asked us not to use his name, was told on Christmas Eve that his company was bankrupt. He was already living paycheck to paycheck in Tokyo, one of the world's highest rent cities. One of the benefits of the job, he said, was corporate housing. Now he was out of a job and a home.
The man is a temporary worker, a class of first-hired-first-fired employees. According to Japan's government, temporary workers make up one-third of the country's labor force. They have fewer employment protections than permanent workers, and they are bearing the lion's share of the recession's pain. Japan's government says between October 2008 and March 2009, some 85,000 temporary workers will be out of a job. Not all of those workers will end up homeless, but in one of the world's most expensive cities, the line between comfort and poverty is thin.
"I think globally it's going to get quite a bit worse before it gets better," says John Vail of Nikko Asset Management. "You hear numbers like a 9 or 10 percent unemployment rate in the [United] States being mentioned. Japan has a low unemployment rate, but it's going to rise quite significantly. People will be losing their jobs; companies will restructure."
Restructuring has already begun at Japan's major companies like Sony, Canon, Toyota, and Honda. Those export-driven companies depend on the hunger of the global consumer. But as the credit crunch narrows the ability to borrow and consumer confidence plummets around the world, those companies are posting record losses and looking to staunch the red. Job cuts are part of the equation. Toyota announced this week it would try and save as many full-time jobs as possible but that 3000 temporary workers would be cut by the end of 2009.
The tent city in Hibiya Park stayed open for a few days. The government offered job counseling and suggestions of new places to stay. The former construction worker says he's optimistic that he'll land another job in a month or so. Until then, he says, he'll try to do something he used to take for granted when he had a job - stay warm through Tokyo's winter.