NEW YORK - Talk about making a bad situation worse. Apple Computer took a difficult management situation (Steve Jobs' health problems) and turned it into a public relations disaster.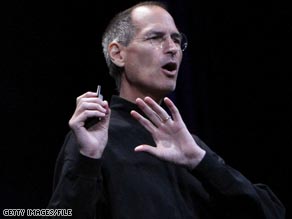 Health problems forced Steve Jobs from center stage.
In an open letter to the apple community just last week, Jobs said he suffering from a hormonal balance that was easily treatable. Late Wednesday, in an e-mail to employees, Jobs said his condition was more complex, necessitating a leave of absence.
Did things really change that quickly or is Steve Jobs in denial? We can't know, and really we can't blame him.
If a friend or family member of mine was struggling with a serious health threat, I would cheer their efforts to fight, to refuse to let it interfere with their life and to stay connected to the things that they felt passionately about.
It is not Jobs' fault he refuses to yield, but it is a failure of Apple's board to intervene.
Given his admission now, it seems they should have insisted he take leave months ago.
At the very least, they should have at least made sure that investors were given accurate information. And if board members didn't know what was going on, they should have.
Investors who jumped in and bought Apple shares last week must feel duped. In fact, there is some talk there may be shareholder lawsuits over this.
The question now – can Apple thrive without Jobs? Most analysts who cover the company talk about the strength and depth of their executive ranks and the talented engineers and developers that work behind the scenes.
David Garritty, principle at GVA Research, said Apple needs to do a better job of getting that next generation of leaders out from the background and into the spotlight so they can develop a relationship with both the investor community and users.
Is it too little, too late? It will be awfully hard to fill Steve Jobs' shoes, even temporarily. He isn't just a CEO, he is a visionary.
You'll notice I wrote the last line in present tense. Shareholders are acting like they are at a funeral, but Jobs is still with us.
If you could ask Steve Jobs a question about Apple's future, or send him a message, what would it be? Are you cheering for his return or do you think it is time he handed over the reigns? Let us know what you think.