NEW YORK - In his inauguration speech President Barack Obama said, "...those of us who manage the public's dollars will be held to account – to spend wisely, reform bad habits, and do our business in the light of day – because only then can we restore the vital trust between a people and their government."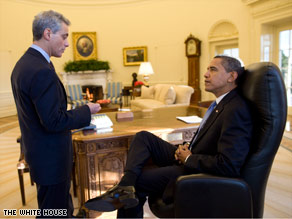 White House Chief of Staff Rahm Emanuel briefs U.S. President Barack Obama in the Oval Office.
He has wasted no time putting those words into action. Wednesday Obama announced a pay freeze for senior White House staffers.
Perhaps more importantly, he also imposed new limits on lobbyists, saying anyone who works in his administration and leaves can not lobby the White House while he is in office.
It is unclear how much of an immediate impact these changes will have, but it is a step in the right direction.
A government job is not supposed to be an internship for a lucrative lobbyist job. Special interests wield huge power in DC.
They impact legislation in a way that the founding fathers never envisioned.
It will be hard to break their grip, but if Obama can make a start, it may go a long way in trying to restore people's faith in government.
Do you think Obama can usher in real reform in Washington or is this just more talk?