DAVOS, Switzerland – It's the contrasts that hit you when you come to Davos. All those mountains and snow, all that Swiss cleanliness - it all feels a long way from the gloom and mud of winter in the English countryside, which is where I was only 36 hours ago.But there are some other big contrasts, too. Even before the World Economic Forum begins, Davos 2009 feels a lot more than 12 months away from Davos 2008. Then, we thought we'd get away with a bit of a slowdown, and emerging economies like China would take over as the engines of global growth and save us from recession. Now, that recession is a reality, and today my inbox is clogged with internal CNN e-mails confirming tens of thousands of job losses: Home Depot, Deere, Sprint Nextel, Caterpillar and on and on and on.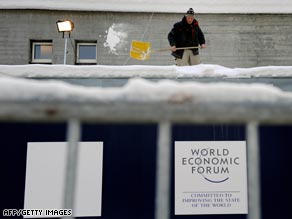 A worker clears away snow ahead of the Davos 2009 forum.
So this year's Annual Meeting of the World Economic Forum will be a rather more austere affair than its predecessors – even more sober than last year's. Old hands who've been here many times before agree that growth has given way to decline much faster than they ever expected. That has frankly awed participants into a more businesslike attitude towards their annual jolly to Switzerland.
Not that it looks that way if you go down to the kitchens of, say, the Arabella Sheraton in Davos. Amid the bustle of preparing for six days of non-stop catering, an assistant chef shows me storerooms full of gourmet supplies. My eye alights on one carton full of something pink and white and shrunk-wrapped: lobster, I ask? Nothing so mean, laughs my guide. Kamchatka crab legs, apparently, a Russian delicacy.
Oh yes, there will be quite some parties here, as every year. But some of the biggest names are canceling or cutting back. Goldman Sachs is reported to have nixed its bash for this year, and a lot of others are wary of being seen to live it up in the Swiss mountains while the world economy crumbles.
Nevertheless, the numbers of participants and hangers-on (like me) will be broadly similar to the turnout last year. For corporate leaders, there is a genuine reason for abandoning their desks and sneaking off to the mountains: we are in uncharted economic waters, and anyone who looks like they might know how to sail us back to growth will be seized on and pumped for ideas.
In Davos, dinners, drinks and deals usually win out over debates, deliberations and discussions. But in 2009 the boot will be on the other foot. With uncertainty clouding the global outlook, the networking will be about what was always originally intended: trading ideas. Trimmed of its excesses, and focused sharply on the economy, this time the World Economic Forum will be about listening.
For more coverage of this year's World Economic Forum, go to our special Davos  page.