TOKYO, Japan — Before you get to the front door of Canon's headquarters in Tokyo, you can hear it – a virtual stampede of employees pouring out of the building right at 5:30pm. You might think it's not so unusual. The day is over and workers should go home, right? But this is Japan, where the 12 hour workday is the norm. Sure, you can go home at 5:30pm, but you better pack your guilt with your briefcase. That is, except at Canon, twice a week.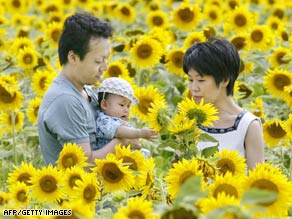 Japan's health ministry reports the country's birthrate is well below that needed to maintain the population.
At Canon, the company shuts off the lights and turns off the heat to force employees out by 5:30pm. There are two reasons – to cut overtime, but also an unusual one: to encourage employees to have more babies. Watch Kyung Lah's report on Canon's initiative
The thinking goes, while there's less work to do in a historic recession like this one, corporations might as well get to fixing another major social problem in Japan: the low birthrate. Keidanren, Japan's largest business group with 1300 major international corporations as members, issued a plea to its members to let workers go home early to spend time with their families and help Japan with its pressing social problem.
Japan's Ministry of Health, Labor and Welfare reports the country's birthrate is 1.34, well below the 2.0 needed to maintain the population. Part of the problem is the expected 12 hour workday. Toss in the high cost of living and the social rigidity towards women and parenting, and you have a major problem on your hands. Compounding the problem, Japan is aging at the highest rate of any country in the world. The world's second largest economy, say many analysts, faces its greatest threat from its own social problems, not an outside force. Without some sort of active change in the current social and work structures, warn sociologists, Japan's population will buckle under its population proportions.
The 5:30 p.m. lights out program is one simple step towards helping solve that problem, with the added benefit of slashing overtime twice a week across the board. Employee Miwa Iwasaki isn't complaining, saying, "It's great that we can go home early and not feel ashamed." If you can feel good at work a couple of times a week, that's a rare silver lining in the current global economic storm.