DAVOS, Switzerland - The new Davos zeitgeist is everywhere. Even the technology is deleveraging.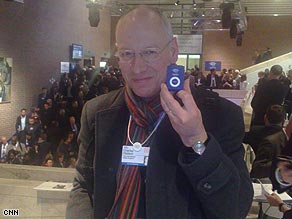 Charles Hodson shows off his Davos pedometer.
Once upon a time, about a year ago, this was the place to learn about new gadgets. The iPaq passes as almost quaint these days but it was here that I for one first used one, linked in through a whizzy wireless network. A few years later I made friends with an iPod.
But this year a rather less exotic gadget was handed to me with my accreditation badge, forum program and briefing documents. Small, blue, plastic and emblazoned with the World Economic Forum logo, it was introduced as ... a pedometer.
It has a little display showing the number of steps taken since it was last reset and the idea is, you clip it onto your waistband, go about your business at Davos and then at the end of the week there's a prize for the person who has walked the farthest.
What better way of underlining the new austerity that now clings to Davos as tightly as its winter coating of thick snow! Had it not been for the absence of an airfield up here, we'd have been treated to opulent displays of executive jets in previous years; instead, though, the real movers and shakers swung in and out in noisy helicopters, while the merely influential slummed in it up the mountains in limos and luxury German sedans.
This year, I realise, it's what we Brits call "Shanks's pony" that is the vehicle of choice for the Davos glitterati: your own two feet. Even a lift in one of the courtesy World Economic Forum shuttle buses might undo any cred you might have had here.
The high-speed, high-spending, high-lending economy is dead. It's the good old-fashioned footslog that will get us all out of jail: no excessive cost, no impact on global warming and no undue risk - unless of course you fall victim to the many icy pavements.
To keep us all on our toes, the security officers have instituted a serious of pointless detours: entrances to the congress center that were open to all yesterday are now only for VIPs, and the rest of us are asked (with impeccable Swiss courtesy) to use another one several hundred yards away.
As one of life's great pedestrians, it all comes naturally to me, I must say. For the record, I have taken 9,918 steps since this time yesterday - and counting.
For more coverage of this year's World Economic Forum, go to our special Davos page.