DAVOS, Switzerland - OK, OK, so Davos is known for its parties. And even in these hard times, a few social shindigs are bound to survive the blizzard of bad news that is blowing through the World Economic Forum.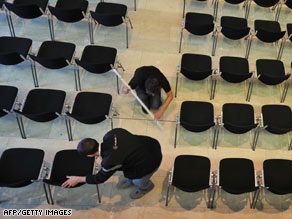 Workers install chairs at the Davos Congress Center in advance of the opening of the World Economic Forum.
There are, in fact, four parties written into the official program: the "welcome reception" as participants arrive on the Tuesday night, the "opening buffet" on the Wednesday, the lavish "cultural soiree" on the Saturday night and the "farewell buffet lunch" on the Sunday.
Even in 2009, all four are there in black and white. But on the basis of the first of them, those who come here for a break from the recession will be badly disappointed.
Even the space in which the first reception was held – in the plush Hotel Belvedere - tonight seemed somehow shrunken, if not misshapen. The proffered glass was modest, and the canapés (some of which I remembered as being so large and extravagant as to challenge one's dignity and good manners) positively normal in their dimensions.
As in previous years, CNN had asked permission to send in a camera to shoot some footage of participants enjoying their happy reunion. "No," came the polite reply, to our initial puzzlement.
Then the Swiss centime dropped. Davos is not about having a glass in one's hand any more. Parties are off-limits to our lenses; the WEF doubtless frets that such images sit badly with the image of an earnest and penitent gathering of business and political leaders, bent on finding The Way Out Of This.
Eager to relax after a long day but shamed into doing something more worthy, I take out my notepad, cross the hall and join what is billed as a cocktail party cum press briefing by a large consultancy firm.
CEOs, I learn, have never been so glum about their prospects, and expect any recovery to be protracted and hesitant. They are losing sleep at the thought of disruption to capital markets (the credit crunch, to you and me), over-regulation burgeoning energy costs and a lack of key talent. This clearly was never a party intended to go with a swing.
And why should it? Welcome to Davos in the recession. These truly are different times.