NEW YORK — News this week of big bonuses paid out at financial firms on government life support has sparked outrage. AIG is paying $450 million to roughly 400 people at a financial products unit - the same unit that directly contributed to massive losses at the insurer. The company calls them "retention bonuses".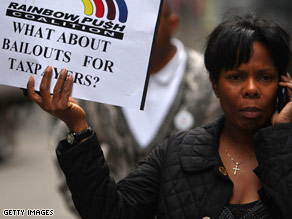 A woman holds up a sign near Wall Street on September 22, 2008, in New York City.
They are not alone. The New York state comptroller's office said cash bonuses paid by Wall Street firms totaled $18 billion in 2008. That is down sharply from the boom times, but still unbelievable considering that these companies would be out of business if not for taxpayer bailouts.
Those headlines stand in stark contrast to another story told to me this week. A medium sized company, hit hard by frozen credit markets and clients that are behind in payments, found itself running low on cash. The bosses made the difficult decision of asking their workers if they would skip a pay period. It was totally voluntary. Ninety percent agreed, with many coming up to the bosses after to express their support and willingness to pull together to make it through this crisis.
Another story crossed our desks about a Michigan pancake restaurant where workers got together and agreed to work a shift with no pay to help the restaurant owner bring down costs. Local patrons, hearing the news, left more generous tips to help make up the difference.
These are not big bosses worth millions of dollars who make a big show of taking a dollar salary as a public relations move. These are real people with real bills who are making big sacrifices to try to save their jobs and the companies they are loyal to.
Maybe we should require CEO's at companies taking taxpayer money to do a job swap and go spend some time out in the real world. They might find out that you don't need to pay million dollar bonuses to find employees that are worth holding on to.