DAVOS, Switzerland - Luckily, not everybody here at the World Economic Forum fits the stereotype of the standard corporate "suit."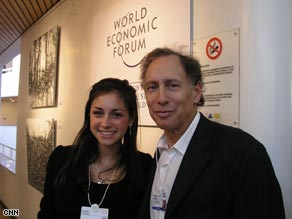 MIT Professor Robert Langer and daughter Susan.
I have just bumped into a charming 18-year-old who must be just about the youngest person ever to wear the coveted white badge of the Forum.
For those not familiar with the ways of Davos, the white accreditation badge is only issued to full participants and their spouses, a category that stands nearly at the apex of the elaborate and rigid caste system that applies here.
If Susan Langer does not fit the corporate stereotype, she isn't exactly your average American high school senior, either. Not many teenagers anywhere have two scientific patents to their name. But then she does have a lot of parental encouragement: her father Robert is a professor at the Massachusetts Institute of Technology, a world leader in the use of nanotechnology to treat cancer and regarded as one of the most brilliant minds in the biotech world.
It is as his "spouse" that Susan is here. But she is clearly far from being in awe of all these eminent and powerful people. "It's totally cool," she tells me, unfazed by my request for her take on Davos. "I got to meet the person who started YouTube, and I ran into Al Gore and got my photograph taken with him."
Ever the proud father, Robert fishes out his cellphone, leans across and shows me the shot of Susan with the former vice-president turned environmental campaigner.
So how did the idea of sneaking young Susan into Davos come about? "He got invited and I wanted to come," she explains simply, adding that she had accompanied him on two previous overseas trips.
It's not just about meeting celebrities, either. Susan Langer's longer-term ambitions also lie in the biotech field but economics is another subject she's interested in. She's taking advantage of exam leave to learn about it from the horse's mouth.
"It's been great," says her high-flying father, "People have been very nice, and I get to spend some time with my daughter."
Now I've heard of "Bring Your Daughter to Work Day", and I think it's a great idea. So why not "Bring Your Daughter to Davos"?
Mind you, if there is still a World Economic Forum in, say, 2020... I for one would bet that this accomplished and personable teenager will be here - this time with her very own white badge.