DAVOS, Switzerland - Like all bosses, my editor likes to drop in the really irksome duties on top of those one has already willingly accepted, as if they were nothing to speak of. "Oh yes," she said nonchalantly, "you and Richard have to blog every day while you're in Davos, didn't I tell you?"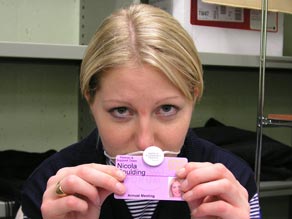 CNN's Nicki Goulding displays the work-related injury she received on the nose from her accreditation badge.
Keeping my grumbles to myself ("She expects me to get up at 5, work all day in the freezing cold and write some inane blog?"), I somehow manage to make my irritation look like mild surprise and decide to take the thing in good heart.
Little did I know that by the end of the week, I'd hardly be able to keep my hands off my trusty laptop and digital camera. As I prepare to return home, I have to be honest with myself about my new addiction: parties, hats, pedometers and daughters at Davos have been among the topics I've sounded off on this week.
Luckily for my readers there were also several items that never quite made it into blogdom.
There was going to be one about how Davos seems to produce more paper than ideas. Even before setting out, a huge consignment of documents from the World Economic Forum clunks onto my desk in London. Upon registration, participants are handed a handsome shoulder bag generously pre-packed with ring files, booklets and letters. And since it is impossible to attend every event at the Forum even if it is vitally important to you, progress around the Congress Centre is hampered by omnipresent racks full of press releases, transcripts of keynote speeches and other literature.
The crunch always comes at the end of the week. I have a large suitcase for trips like this, but it always ends up crammed full by the time I've put in all the warm clothing needed to handle broadcasting outdoors at 7 a.m. when the temperature is down to minus 16 degrees centigrade. Sticking in any extra stuff is not an option.
There was also going to be a blog about the mishaps that befell two of my colleagues here. I knew there was a lot of science, sociology and subterfuge associated with the different colored accreditation badges but never realized how downright dangerous they are.
The hazard resides in the piece of elastic you string round your neck, so the thing hangs at roughly the level of your third button down from the top. Security is very big here, and you frequently have to hold your accreditation up to electronic readers that verify your identity - for example, when entering the Congress Centre.
Last night CNN's Nicki Goulding did this a little carelessly, but with the elastic at full stretch the sharp-edged badge slipped from between her fingers, whizzed back and struck a vicious blow to the bridge of her nose.
Ouch. She appeared the next morning looking like she'd been in a fight.
The other unhappy incident concerned our Vicky Brown. She became the victim of abuse of monopoly power, proving that at the World Economic Forum, the microeconomics can be as bad as the macroeconomics.
Stepping into her taxi - ordered for 6:30 a.m. - at 6:32 a.m., she was subjected to a torrent of abuse in a language she does not understand. One thing the driver did make clear: She would have to pay more for keeping him waiting. Knowing that prices in Davos are systematically eased skywards when the World Economic Forum is in town, she stood her ground. More abuse, and the driver dropped her past the place she needed to be dropped, forcing her to walk back a couple of hundred yards.
The fact is, there aren't many taxis or taxi companies in Davos, and there is a lot of demand for them during the Forum. It's a seller's market, and first-year undergraduate microeconomic theory prepares you for such behavior. But it is still a pity to meet such a grouch in a country famed for its courtesy and hospitality.
Ho hum. Enough complaining. I'm off to work out a way of squeezing all those precious press releases into my poor old suitcase.