TOKYO, Japan — At the Toyota City job center, today's supervisor, Mr. Kawajiri, is in a mild panic. The number of people who need a job has doubled in just months, and their numbers seem to grow with each passing day. It's hard to keep up, he says, and it's often overwhelming.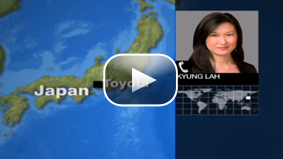 The Toyota City area, home to Toyota Motor Corporation, is now also home to Japan's highest density of unemployed workers. This is something Toyota City has never seen before.
This one-industry town has ridden high with Toyota Motor Corporation for decades, exploding in size and wealth. Workers enjoyed lifetime employment with enough cash to care for their entire families.
Town coffers filled with each profit earnings report from the ambitious automaker. That was all before the global economic downturn.
Today, for the first time in the world's biggest automaker's history, all of its Japanese assembly lines sit idle.
The seven Toyota City factories are silent, a deafening sound in this city of 400,000 residents.
Workers who pride themselves on the Toyota philosophy of "kaizen," which means constant improvement, are improving nothing today. They're sitting at home or passing the time in Toyota City's main shopping district.
But no one wants to spend any money, because they're not sure when or if they'll be showing up in Mr. Kawajiri's job center.
"I don't want to complain, but it's hard," says Kawajiri. "I take it day by day, person by person, and try not to think of all the people who are unemployed right now. If I do, it's more than I can handle."