TOYOTA CITY, Japan - On what was to be a historic day, halting all of Toyota's Japanese assembly lines, the automaker announced late in the day it would keep one line running. The late news sent copy editors and reporters to their laptops erasing headlines like "historic shutdown," but it did little to quell the pain for the tens of the thousands of workers idled across Japan as nearly every line stopped producing autos and auto-related equipment.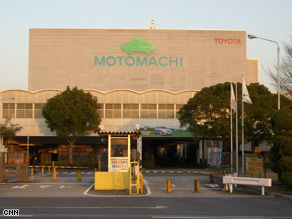 The scene is quiet these days in Toyota City.
Nowhere is the silence more deafening than in Toyota City, home and birthplace to Toyota Motor Corporation. Factories are shuttered, workers idled, in an attempt to bring production in line with falling global demand.
The day is particularly ominous for assembly line worker Takayuki Yoshikawa, who has already been told he's out of a job and home in May. Yoshikawa resides in a Toyota owned dormitory. "I don't know what to do," says Yoshikawa. "I could go back to my hometown, but there are no jobs there, either."
Toyota, now the world's largest automaker, plans 10 more days like this, spread out over the next two months. Toyota's incoming president, Akio Toyoda, called the current economy "unprecedented, the likes of which haven't been seen in 100 years."
Toyota also says the scheduled assembly line shutdowns are an attempt to save what jobs the automaker can. "The production suspensions scheduled for Japan in February and March is part of our effort to keep production in line with market demand. We are carrying out these suspensions fully aware of the necessity to even out production volumes and maintain employment levels."
Analysts say while painful, these shutdowns may be unavoidable. "Everywhere, almost everywhere, things are getting worse and worse and worse," says Koji Endo, Credit Suisse auto analyst. "Under that kind of circumstance, you have to control your cost. Maybe try to shrink temporarily."
The cost control is having a damaging effect on Toyota City public coffers. The city of 400,000 estimates it will lose 90 percent of its tax dollars as Toyota falls into the red and pays fewer taxes. It comes at a time when Toyota City is seeing historic levels of unemployment. This region, according to Toyota City, carries the dubious distinction of having the highest rate of unemployment in Japan.
Alberto Dilone, already fired from a Toyota parts subsidiary, showed up at the Toyota City job center to search for a new job.
"Kubi," says Dilone, slicing a finger across his throat. Dilone says half the people in his plant have been fired and the jobs in Toyota City are scarce. Like the hundreds of unemployed filtering through the center everyday, he's leaving with no new job leads.