LONDON, England – You might think Pablo Dimoglou was a little crazy when he decided last year to launch a new grocery store just a mile or so away from one of the biggest Tesco supermarkets in the UK.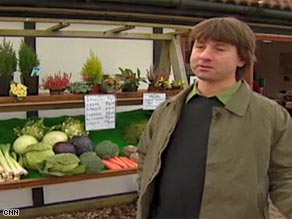 Dimoglou has made a success of underselling superstores.
Dimoglou had had enough of his career in the events management business and decided to open a farm shop selling local produce from farmers around Norfolk, eastern England. So he and a partner set up shop, literally, and it didn't go well. Bags of fresh carrots sat for days and were then thrown away. Potatoes just sat on the floor.
Even though he was providing an alternative to the big Tesco and was trying to help local farmers, his set up did not interest many local suppliers because sending over a few bags every week was not worth the effort.
But he did not give up. He went to Tesco and checked out the prices and decided to undercut the superstore on most vegetables.
After failing to interest the local media with his strategy, he put 5,000 leaflets through the doors of neighbours and put a big sign out front stating "Cheaper than Tesco." It worked.
It seems customers do not care where the food originates or who sells it - they want lower prices, period.
On many days Pablo goes to Tesco and does a price check and then shows customers which products are cheaper at his place. On the day we were there, Tesco onions were cheaper and he clearly displayed that.
Now, suppliers gladly deliver whatever he orders. He is selling many more bags of carrots and sacks of potatoes and has added non-grocery items so customers don't have to head up to the superstore for items such as staples, even if they are a little cheaper there.
His business model is simple: Instead of trying to sell (or not) something at a 50 percent mark up, he now sells a whole of something at a 10 percent mark up. He still makes his money, his suppliers are happy, his parking lot is busy and now Pablo is building a summer restaurant on site so people can sit and watch the traffic head up the road to Tesco.
He figures by this summer, he will have nine employees. Nine people who would not have a job if he did not undercut his rival.
Do you have any similar examples where you live? Let us know.