DRESDEN, Germany – It was one of those cold days when the weather can't seem to decide whether it should be raining or snowing, cold wet and gray.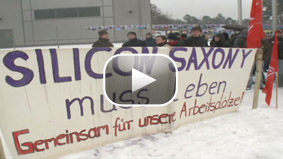 We had just arrived at the Dresden factory of memory chip maker Qimonda, a company that filed for bankruptcy, and we found almost the entire workforce outside the gate protesting, doing what they can to fight for the survival of their company.
Many of the workers are highly skilled employees from abroad. American Michelle Prevot is one of them. After finishing her PhD in Germany she decided she wanted to stay, and Qimonda seemed just right.
Memory chip production was good business and the area around Dresden is one of the largest clusters for the industry in all of Europe. The capital of the German state of Saxony, it is known as "Silicon Saxony" to Germans.
Prevot says she never thought things could get this bad: "I never would have imagined something like this could happen," she tells us as she keeps wiping rain and snow from her glasses, "we don't know if we will have jobs next month."
Qimonda is not the only chipmaker in trouble. Other major companies like Infineon, Qimonda's parent company, and Advanced Mico Devices are feeling the financial crisis as well - and that is threatening the very existence of "Silicon Saxony."
To understand what this means you have to go back all the way to German reunification in 1990.
Within a few years of East and West Germany coming back together, pretty much the entire industry in what used the be the communist East collapsed and vanished, leading to massive unemployment.
Things were different around Dresden in Saxony. The state government had a plan to build up high-tech industry in the area. They had a skilled work force - Dresden had been home to "Robotron" the communist computer maker that was building outdated 1980s American PCs - and they also had access to subsidies from the German government. 
Within 10 years Dresden had emerged in its "Silicon Saxony," incarnations with a massive semi-conductor industry employing some 44,000 people. It remains a shining light in the former communist East, which has never fully caught up to the West in industrial production or job creation.
Now all that is under threat.
In press releases Qimonda blames its bankruptcy on the financial crisis and drastically falling prices for DRAM memory chips, due to stiff competition from Asia.
The local Dresden government tells us that Asian chipmakers receive far greater subsidies from their governments than European companies and that is what makes them more competitive.
But even the business mayor of Dresden admits that his town is already bracing for the worst in case Qimonda shuts down and all 3,200 employees lose their jobs.
"We are looking to build up new sectors with other high technologies, so we can mitigate the problem," says Dirk Hilbert, the business mayor of Dresden.
In the meantime, Dresden's mayor, Saxony's state governor and the German federal government say they are still fighting to save Qimonda by looking for investors together with the company's insolvency administrator, which has until the end of March to get fresh capital to continue production.
At Qimonda, the workers protesting outside the gate are hoping for the best, but bracing for the worst. Steve Langdon, an engineer from England, says he had no idea what might happen
"Where will I be in a year? Ask me in a year, I really can't tell you. But I don't want another job, I want to work here, I like it here," he says.
For now all he and the others can do is wait and show the world they want their company to stay alive by protesting outside the gates no matter how bad the weather.