HONG KONG, China – This week, I met with a businessman who ships goods from Hong Kong's port all over the world. All he could talk about was the lack of orders especially from the United States.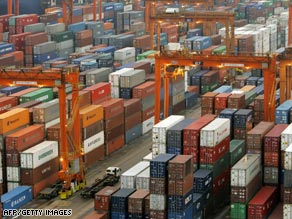 Freight movement out of Asia is slowing as orders dry up.
"It's all about the orders!" he lamented. "There are no orders."
No orders is a bit of an exaggeration. He later calmed down and told me that American retailers were placing orders - but not a lot by his estimation and only to bigger manufacturers they felt confident would be around at least for the next several months.
This lack of confidence is disconcerting for business people in Asia and for the governments who, for decades, relied on the sales of competitively priced goods to countries such as the United States to enrich their impoverished economies.
For the vast majority of exporters out here, the U.S. market is crucial to their survival. In addition, others that support these manufacturers - like the businessman I was speaking to - can't imagine further growth in the region without America's confident spenders.
Already, Japan has posted a record trade deficit. Taiwan's exports are down by over 40 percent from a year ago. Hong Kong's recession is deepening. South Korea is facing a debt crisis as its companies' sales wither.
The businessman I met with isn't normally interested in U.S. politics, but he is this year.
His hope? That President Barack Obama and his aggressive economic agenda will inspire the American people to buy again - and keep the orders coming to Asia.