NEW YORK– When it seems like there is no hope, when the economy is said to be in "shambles" (as Warren Buffett aptly described it), THAT is exactly the time to take a deep breath, step in and buy stocks.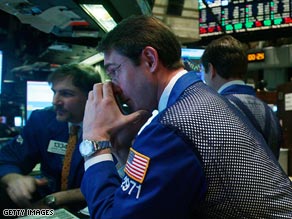 New York traders still on the floor Tuesday.
At least that used to be the common wisdom.
Nowadays, investors are scrambling to sell into strength in an attempt to hang onto whatever money they have left.
Even with stocks at 12-year lows, there doesn't seem to be anyone willing to buy.
Baby boomers have lost more money than most can realistically recover in time for retirement. Younger workers have seen a decade of savings evaporate.
When discussing the latest headlines of yet another tycoon charged with swindling billions from investors, a friend of mine recently commented, "Ponzi schemes? I think the whole system is one big ponzi scheme."
She is not alone. Investors are beginning to wonder if they too were duped into believing stocks were the answer.
The system worked for executives who made millions in salaries and prospered off of stock options on the way up.
But what about the shareholders? What were they left with? Companies worth a fraction of their value. Stock portfolios decimated.
I am not sure I am ready to throw in the towel yet, but what about you? Have you lost faith in the stock market? If so, how do you plan to pay for retirement?