LONDON, England - Have you seen the cover of this week's Economist with Brown, Sarkozy and Merkel having to pay the "dinner" bill to rescue Eastern Europe? If you did you would have seen the artwork of Kevin Kallaugher - or Kal as he signs his work.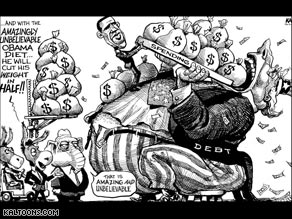 An example of Kal's witty and perceptive cartoon talent.
American-born Kal has contributed more than 100 Economist covers during the past 30 years. He's also been published in my hometown paper; the Baltimore Sun. Kal was discovered during the recession of the late 1970s drawing caricatures on the streets of London and Brighton.
He has benefited from Reaganomics, Thatcherism, Bill Clinton (fish in a barrel all of them) but is now tasked with describing the "credit crunch" with pen and ink.
Some commentators speculate that the end of the Bush era might mean the end of cartoon satire to reflect today's news. Not Kal.
"Certainly it (the Bush presidency) was the golden era to a certain degree," he told me during an interview at the Political Cartoon Gallery in Central London last month.
"I mean also what we're seeing in Obama's case - although the satire may not be immediately directed at him as an individual - is that we're going through such historic changes, politically, economically, around the world, it's going to supply a lot of material."
The challenge for Kal and his contemporaries is to describe the credit crunch in one drawing. Kal hopes his craft actually helps people make sense of the global recession. "You not always just react to the news. I like to think that we're in the business of kind of clarifying the news," he said.
He is very busy these days trying to "draw" the recession and also the new president. "It's this early phase, where we as the cartoonists are helping to establish in the public's mind what these people look like, this is an interesting time for us."
Kal has drawn many a character during his career. He often has to hear their voice to capture their essence. If you want to hear his imitation of one famous voice (he says it drives his wife crazy as he talks to himself in character as he draws some people) and see his efforts to capture the character of a certain CNN employee, watch Quest Means Business on Thursday night or check out cnn.com/international on Friday.