NEW YORK– Bernard Madoff will likely spend the rest of his life behind bars, but that is little comfort to the thousands of investors who lost their life savings because of his actions.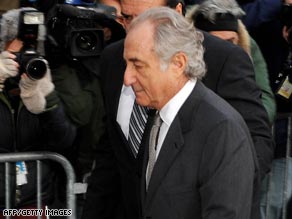 Madoff arrives at court Thursday.
After he entered his guilty plea, Madoff addressed the court and said he was deeply sorry and ashamed.
Sorry ... Sorry? This was not a one-time mistake, but a multi-billion dollar fraud carried out over decades. He ripped off friends, neighbors, charities and pensioners.
It seems incredible that he asks anyone to believe he has a conscience.
At the end of the hearing Madoff was ordered to go directly to jail while he waits for his official sentencing, scheduled for June 16.
Government prosecutors will no doubt declare victory, but victims are angry there was not a trial.
Richard Friedman, who lost $4 million in savings, told CNN: "It's not enough just to say, 'OK, I'm guilty, put me away.'
"What about all the other people involved? What about his family? I want to know. What about the money? I don't think there's $50 billion out there. I think a lot of it is with the IRS, but whatever money he had, I think that that should come out. Where is that money?"
Legal experts say we may never know where the money went.
Right now investigators have found just under $1 billion, a fraction of the $60 billion that some estimate he swindled.
The other unanswered question that I struggle with is: Why?
When people commit a crime it helps to understand the motive. Why did this respectable and, by all measures, successful man do this?
Why didn't he turn himself in earlier? He said in his opening statement he always knew what he was doing was criminal and that he would be eventually be caught.
How could he have ruined so many lives? One of his victims said simply, "He is evil."
I think it may have more to do with greed. Yes, at the age of 70 he now faces jail time, but for the last 20 years he has lived a life of extreme luxury.
If he is the only one to serve time for this ... has justice really been served?