NEW YORK - This week Ben Bernanke threw out the central bank rule book.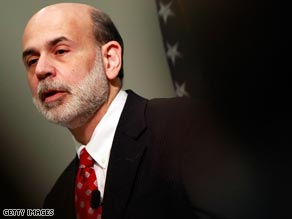 Bernanke has been picking up new nicknames as he battles the financial crisis.
First he did a sit-down interview for a major media outlet that aired just two days before a policy meeting, in violation of the traditional black-out period.
He then shocked markets by announcing the Fed would start buying billions in long-term treasury bonds, as well as billions more in mortgage-backed debt and agency bonds.
The response has been dramatic. Mortgage rates dipped below 5 percent Thursday.
Almost everyone I know is calling to try and refinance. Officials hope new home buyers will also move off the sideline and start to chip away at the inventory of unsold homes.
Bernanke is following through on his promise to use every tool the Fed has to help fight this global crisis.
In cartoons he has gone from being depicted as Helicopter Ben, willing to throw money into the economy, to Bomber Ben ... dropping crates full of cash across the U.S. economy.
Most traders and analysts are applauding Ben's bold action. Some, however, do worry the solution will just spawn new problems, especially rising inflation.
I'm sure Bernanke is worried about that too, but in triage you do what you can to save the patient and worry about everything else later.
I don't know if he has the right answer, but for now I am willing to put my trust in Ben.
What about you? Do you think the Fed chairman is taking the right approach or is he just laying the ground work for another bubble?