(CNN) – Mayfair has been the playground of London's super rich for centuries.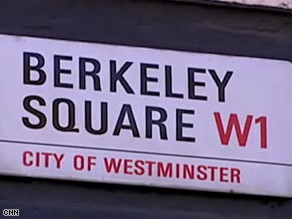 Berkeley Square, one of London's most exclusive addresses, has lost some of its luster.
Since the 1990s, it's also been home to the hedge fund and private equity crowd, joining the private banks dotted around Berkeley Square in Georgian townhouses or low key new buildings.If you've shopped on New or Old Bond Street or Savile Row, if you've stayed at Claridges or the Dorchester or just played Monopoly, then you know Mayfair; the ritzy area surrounded by Piccadilly, Regent Street, Oxford Street and Hyde Park.
The past decade, Mayfair's players have attempted to keep a low profile. You'd never know you were walking by the headquarters of Blackstone, Carlyle or, at No. 1 Curzon Street, AIG Financial Products where many of the losses occurred and where many of those infamous bonuses were paid.
And you certainly would not have known that the small townhouse known as No. 12 Berkeley Street was the London offices of Madoff Securities International Ltd.
Those offices are now up for rent. Someone I talked to recently said he had a good look around at place to relocate now that Mayfair has become more "affordable" but felt the place had bad karma.
He noted as well that the office had swipe card entry access to every cabinet which he thought excessive. That goes along with reports that Madoff had a camera installed in the London office so he could keep in better contact from New York.
Property group CB Richard Ellis estimates that rental prices in Mayfair have fallen between 25-30 percent since prices topped £120 ($173) per square foot in 2007, the most expensive place on earth for office space at the time. Now new rent prices have fallen behind rents in New York and Tokyo and likely Hong Kong.
Still, occupancy stands at 94 percent so it's not as if the property market has collapsed. After all, a hedge fund might be three people and a secretary in one small office. The impact would be much greater if a private equity group were to move out.
On the day I walked around Mayfair, there was a Rolls Royce and Maserati outside Gordon Ramsay's at Claridges. There were plenty of Bentleys roaming as well. No surprise really since one of the premium corner spots is filled by the Jack Barclay Bentley dealership (there is a Porsche dealer opposite).
And that seems to be the key to Mayfair; after private money flies into London and checks into Claridges or the Dorchester or the Hilton, it wants a private banker or wealth advisor within walking distance. Then it's lunch nearby at Ramsay's or Nobu and maybe a drink at Mayfair's most exclusive (and hardest to find) club, Annabelle's.
AIG, UBS and other big names all have big offices in the City of London or in the Docklands, but they want their private banking and alternative investments arms separate.
Whether its Mayfair or Greenwich, Connecticut, the super wealthy and those who cater to them like to be off on their own, tucked away from the day-to-day banking operations.
Yet, thanks to Mr. Madoff and those at AIG getting big bonuses, the spotlight is uncomfortably focused on them and the neighborhoods they like to walk around - usually without a tie.
Watch my report on how the financial crisis is hitting Mayfair.