LONDON, England - The protesters at the G-20 summit have been getting a lot of attention by the media. So in that sense, they've accomplished what they wanted. And there seems to be two threads of coverage.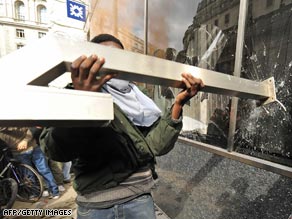 Do those intent on the destruction of banks serve any purpose at all?
One British tabloid ran a headline "BLOOD ON THE STREETS" with a picture of a protester with streams of blood coming down the side of his head.
Another tabloid showed a policeman pushing back a protestor in a large crowd, and it read "ANARCHY DOES NOT RULE UK."
Which headline more accurately reflects the reality on the ground? I would say the latter one.
The police by and large kept the anarchists, as some are called, at bay.
Yes, they did manage to break a few windows at a Royal Bank of Scotland branch - the disgraced bank which has now been nationalized.
Its former head, Fred Goodwin is a much-hated figure for the £700,000-a-year pension he is receiving, despite billions of dollar being spent to bail out the mess he put the bank and taxpayers in.
Some of those who came bent on destruction, no doubt went home grumpy.
One protester, an artist who gave his name as "Morganic" was quoted as saying: "I'd have liked to have seen more smashed windows. I remember the poll tax riots - that was much more fun."
Fun? Perhaps Morganic should rename himself Moronic. Not fun for the taxpayer who's shelling out an additional £7 million or more because of the extra police security.
And not fun for the many small business owners in the area who lost trade as a result of the demonstrations.
Axa, the insurer, estimates the losses could be between £300 million and £500 million - that's upwards of $720 million.
I think one of the ironies lost on these anti-capitalists protesters is the huge benefit that free enterprise brings and the innovation that goes along with it.
All their methods of communicating, be it on their computers, or mobile phones ahead of the protests, would not be possible without technology - technology brought to the masses through venture capitalists or shareholders willing to risk their money to invest in companies.
Those protesting against greedy bankers, or the war in Iraq, or on behalf of climate change, all have legitimate reasons to demonstrate. It's part of a strong democracy.
But for those intent on destruction, for those who didn't have as much fun as hoped, I say good riddance.
Do you think some of the demonstrators went too far?
Do those intent on the destruction of banks serve any purpose at all?