If it looks like a duck and sounds like a duck it's probably a duck, right? Wrong. Just ask the Rolls-Royce motor company. It is mightily unimpressed by a concept car produced by Chinese carmaker Geely, on display for the first time at this year's Shanghai auto show.
At first glance you can see why.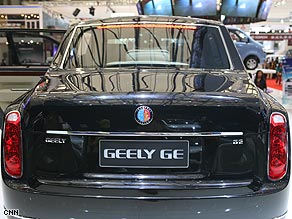 Chinese automaker Geely unveiled its GE in Shanghai.
Geely has produced the GE which looks uncannily like the Rolls-Royce Phantom: from the iconic bonnet (hood) ornament - the Spirit of Ecstasy - to the stately and equally recognizable grille. Even the rear end tapers in on the Geely.
Now you may have expected Rolls to shrug it off, to look down its aristocratic nose and smile benevolently at an upstart paying it a sort of back-handed compliment.
Absolutely not. In the whispering, highly refined world of top-end luxury marques, Rolls was pulling no punches.
"Yes, I've had a good look at it," said Richard Carter, head of worldwide communications for the fabled British carmaker, now owned by BMW.
"It's a copy and we are frankly disappointed with Geely."
Geely's response is to say it's absolutely not a copy. It's an entirely original design, and what's more they really don't want to get into a discussion about it.
Take a look at the pictures and decide for yourself.
Copying is nothing new in the auto industry. The Japanese did it, the Koreans did it and the Chinese are now doing it, said Michael Dunne of auto research house, JD Power.
It's a long-standing joke in the auto industry that R&D stands not for Research and Design, but Receive and Duplicate.
But why is Rolls-Royce so sensitive? After all, it's not likely anyone will buy a Geely GE (if it ever makes it to production) in the mistaken belief it's a Roller. And Rolls-Royce says it can't imagine the car, even if it were in production, having an impact on its own profits.
What Rolls' action does show, according to Dunne, is just how concerned the global auto industry is by the imminent arrival of China on the world stage.
He added that it will take perhaps three to five years for China to start competing against the likes of the mass-produced family cars from Europe, Japan and Korea. It will take longer at the luxury end.
But in the meantime the non-Chinese automakers are sending a message to China that it cannot take anything for granted as it makes its way up the value chain.
It's a tough industry, especially in these times, and no one is going to get a free ride.
Rolls-Royce, quite understandably, defends its reputation vigorously against anyone who uses its designs without asking. This is no exception.
The question, though, is what can Rolls-Royce actually do about it.
"Western auto makers have taken Chinese carmakers to court in the past over what they see as major copyright infringements, but so far they have never won a case," said Dunne.
But, if the reaction of Rolls-Royce, is anything to go by they are not going to stop trying.