NEW YORK - It was too good to be true and in our hearts we knew it.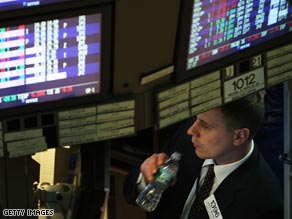 A slew of U.S. earnings reveal the extent of the economic gloom.
In early March stocks embarked on an explosive six week rally that seemed to signal the global crisis was ending.
Oh, there were plenty who warned that it was just a bear market bounce. But it was much more comforting to think the aggressive action taken by policymakers around the world laid the seeds for a speedy recovery.
This week reality hit.
As hundreds of U.S. companies report earnings, it is clear we are far from being out of the woods.
The American consumer is still in a world of pain.
Monday, Bank of America CEO Ken Lewis warned that credit was bad and getting worse. More and more consumers are falling behind on credit cards and loans.
Tuesday, Delta warned it expects more empty seats in the second quarter as consumers cut back on flying.
And it is not just vacations that are put off. Merck is seeing lower sales on many of its major drugs. Caterpillar, the company that makes the diggers and tractors that build new homes, sees no recovery in profits or sales.
And we aren't even half way through the week!
Trader Yra Harris of Praxis Group in Chicago told me this morning: "I can't listen to this concept anymore of green shoots. It's nonsense.
"You still have to clear out this issue of the solvency or insolvency of financial institutions because that what the real health of the market is dependent upon."
The U.S. government is going to try to do that when it releases the results of its bank stress tests on May 4.
In theory that should clear the air, but I am hearing a huge amount of skepticism already and we don't even know the details of what the tests consist of.
And there is something else I'm worried about. In order to be credible these tests will have to identify losers. What happens when they do, will be unsettling to say the least.
The bears were in hibernation in March, but they are awake now. And they smell a trading opportunity.