HONG KONG, China – You can tell a lot about the state of the economy by what passes as positive news.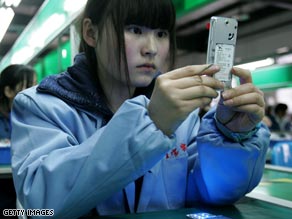 A worker works on a product line at a factory in Chengdu of Sichuan Province, China, February.
Business across the globe has gone from bad to worse, and a new phrase has crept into the lexicon of the credit crisis in recent weeks: the "less-worse" economy.
"Getting Better (or Less Worse) All the Time" was a headline last week on TheStreet.com. "From Bad to Less Worse," said a story about the German car industry from Der Spiegel earlier this month.
"I expect things to get less worse as we proceed through the year," Richard Fisher, chief executive officer and president of the Dallas Federal Reserve Bank, told CNN last week (although he also expects U.S. unemployment to eclipse 10 percent in 2009).  Watch Fisher comment on economy
Translation of a less-worse economy: It's still bad - much worse than a year ago, in fact - but still not as bad as the previous month or business quarter. Some recent less-worse news:
– The U.S. Federal Reserve released a report on April 15 that showed "overall economic activity contracted further or remained weak." However, five of the 12 districts across the United States that supply data to the Fed noted a "moderation in the pace of decline. Several saw signs that activity in some sectors was stabilizing at a low level."
– Exports from Japan dropped 46 percent last month, compared with March 2008. But that's less than the nearly 50 percent year-on-year drop the month
before
–  China's exports were down 17 percent year-on-year last month, but still $25 billion more than in February
– An Associated Press-GfK poll early this month showed that 40 percent of Americans think the country is headed in the right direction, double the percentage in October
The less-worse economy is still tumbling downhill. But when optimism is in short supply, people find hope where they can.