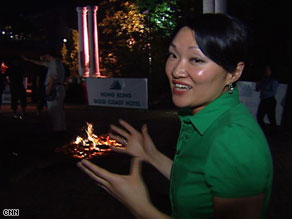 So how do you survive a firewalk?
HONG KONG, China - My producer Pamela Boykoff somehow convinced me that walking on fire for the cameras was a good idea.
 Companies have been firing staff and now are trying to fire up those who remain. What better way to illustrate the corporate world's troubles than to show employees - and yours truly - walking over burning coals?
 So what is the point of this exercise, you ask?
Data storage firm EMC, the company that hosted the firewalk in Hong Kong for its employees, said the aim was to build teamwork. Companies pull staffers out of their comfort zone so, ultimately they bond and think outside of the box.
The idea, Steven Leonard, Asia president for EMC, told me, is that people are going through something together. The act, he said, is a "catharsis." I guess that is more powerful than taking the team out for a group dinner.
 I have to say the EMC employees seemed to be enjoying themselves - and bonding - as they overcame what many would perceive as a potentially traumatic experience. I, too, found the walk rewarding - probably because I managed to do it without engulfing myself in flames.
 So how do you survive a firewalk? I'm no expert, but here are a couple of tips:
 1. Don't panic.
 The real danger is playing mind tricks on yourself. Firewalk organizer Ronnie Ng says to imagine you are walking on a dewy field of grass. The secret is that a layer of embers protect your feet.
 3. Proceed at a normal pace - with confidence.
 Go too fast and bits of scalding coal get stuck between your toes. Walk too slowly - more than 3 seconds per step - and prepare for some blistering. Keep your eyes looking ahead. When you get it right, it should feel as though you are walking calmly along beach sands warmed by the sun.
 3. A back-up plan ... doesn't hurt.
 Chances are you won't need medical help, but Ng had buckets of ice water and olive oil on hand to soothe burning feet. The ice water, he said, stops pain. The oil was to help prevent blisters. Hong Kong has some excellent hospitals. Luckily, no one needed to go.
Don't panic. Proceed calmly. Have a back-up plan. Sounds like the same advice given to investors these days. Hopefully, these lessons can help us all avoid getting burned in business, too.