HONG KONG, China — The Chinese banner above a modest Hong Kong store reads, "Time Coupon Place."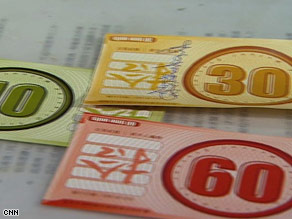 The 'money' that buyers use at the 'Time Coupon Place' in Hong Kong.
It makes you wonder what this store sells. Does it sell clocks? Does it sell watches? No, not exactly. It literally buys and sells time through the old-fashioned art of bartering.
But there is more. I soon learn that the store is really a platform for creative buying and selling.
I walk into the store and am surrounded by a hodgepodge of items. Shelves are jammed with toys and used books. There are crates of vegetables for sale - eggplants, spinach, string beans. There is a table piled high with second-hand clothes, like denim jeans and cotton shirts.
Talk about a mixed bag. This is not your ordinary second-hand store. This is a time coupon store. It is a place that uses a combination of cash and time coupons as its currency. A time coupon looks like play money from the Monopoly board game. In this case, time coupons come in the value of minutes - from 1, 5, 10, 30 and 60 minutes.
Here is how it works:  If I agree to tutor someone in English for 30 minutes, I can earn a 30-minute time coupon. Then, for example, I can come to the store and buy a wooden toy boat with the 30-minute time coupon. The actual price tag has an hourglass symbol with the number "30" next to it.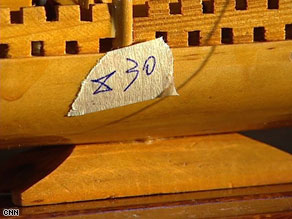 This boat's price tag has an hourglass symbol with '30,' meaning you need a 30-minute coupon to buy it.
Only a few time coupon stores exist in Hong Kong. Community organizers and NGOs came up with the idea in a bid to help local families save money. The first time coupon store launched here in 2001 with a few members. (It is easy to become a member. You pay a small membership fee and sit through an orientation class to learn how time coupons work. Anyone can join.)
But in the past six months, 120 new members have joined, pushing up the total membership to 1,200. It is a significant spike, which community organizers attribute to the current global recession. You can also earn time coupons by donating used items that other members might want. This explains the random assortment of stuff around the store.
On the day I visited, I noticed the most popular items were organic vegetables. A farmer had rolled in a cart of fresh vegetables straight from her organic farm in the New Territories, which is across the harbor from Hong Kong island. A few customers hovered over the different crates - pulling, picking and squeezing the greens. Each vegetable is priced with a combination of time coupons and cash. For example, a bunch of eggplants and spinach might cost a 11-minute time coupon and 7 Hong Kong dollars (about US$1). Not a bad deal!
The old-fashioned idea of bartering skills, services and personal items seems to be the new practical "trend." In Argentina, barter clubs are gaining popularity. The barter clubs started there in 2002 after Argentina's economy took a dive. Then they sort of faded away and now they are enjoying another surge in this recession.
Back at the Hong Kong time coupon store, a woman quietly works at a sewing machine in the back corner. She is creating fabric handbags that are a nice patchwork of different colors. The handbags are sold at the front of the store. The community organizer says the handbags are quite popular with the expatriates who wander into the store. The seamstress splits the proceeds with the time coupon store in yet another creative way of doing business.
As I exit the store, I appreciate the idea of a different kind of currency. Time has value. Time is money. But here is the added bonus: community involvement.