PARIS, France - There have only been two commercial orders of note so far for either Airbus or Boeing here at the Paris Air Show. One was Qatar Airways' firm $1.9 billion order for 24 Airbus planes (new engines are included in that value) from the A320 family.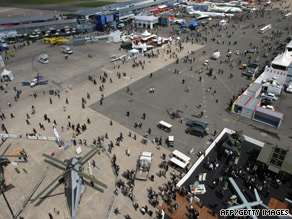 The showpiece at Le Bourget is a major shop window for aircraft manufacturers.
Vietnam Airlines also placed an order for 16 single-aisle A321 planes and options on two A350 XWB - a plane not yet built and rival to the Boeing 777.
That's it. Nothing has been heard from Boeing yet, though it tends to lag behind the French plane maker when it comes to orders in Paris, where Airbus likes to make a splash in its own backyard.
Both aircraft manufacturers have barely made a dent in their order book this year because new orders are offset by so many airlines delaying - or in some cases outright canceling -  orders. Until the show Boeing had no new net orders and Airbus had more than 11 for 2009.
And yet in my interviews with the men who sell the planes, John Leahy of Airbus and Scott Carson of Boeing, show them to be in buoyant mood. One of them even joked to me that there is trouble if they are both of the same mind.
That's because they say new plane orders follow GDP growth - and it looks as if the economic tide is turning. It's also the case that financing appears to be getting easier to source. Boeing says it has not had to finance as many of its customers as it was prepared to do. But it has been helping airlines find financing when they couldn't.
That too, is getting easier, and since the rationale for newer, lighter, more fuel-efficient planes has not changed, airlines are expected to pick up business replacing fleets once the credit crunch and recession ends.