NEW YORK – Disgraced financier Bernie Madoff stood up in court in New York on Monday and told some of his victims that "I live in a tormented state for all the pain and suffering I created."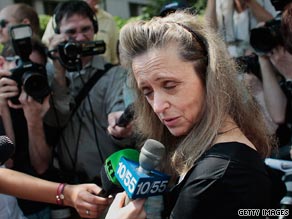 Miriam Siegman's life has been turned upside down by Madoff's crimes.
Facing them head on, he said he was sorry - but his words rang hollow.
Speaking to us just after the sentence was handed down, many victims said if Madoff was truly sorry he would have stopped years ago and owned up to his mistakes instead of living a life of luxury.
Others felt bitter that Madoff has not told prosecutors who else was involved and where any remaining money might be hidden.
Victims, who attended a rally after the hearing, are vowing to fight on.
But many acknowledge they will never recoup their life's savings.
One woman, Miriam Siegman teared up as she told how she now lives on food stamps.
She admitted she turned and walked out of the court room when Madoff gave his statement. It was simply too little, too late.
The 150 year sentence Madoff received was the maximum allowed and was based on several factors including the number of victims, the amount of money involved and the damage caused by his acts.
In delivering the sentence the judge said he understood the ruling was largely symbolic since, at age 71, anything over 15 years would likely mean life in jail for Madoff.
But Judge Denny Chin said he wanted to send a strong message to those who would think about perpetrating similar crimes.
This is by far one of the harshest sentences ever handed down for white collar crime in the U.S., but Madoff's crime was unprecedented and has badly damaged investor confidence.
What do you think? Did Madoff get what he deserved or is 150 years overkill? Did he act alone or will the government be successful in charging any accomplices? And will the harsh punishment deter others?