LONDON, England - When I was offered the chance to drive a Tesla Roadster electric car around the streets of London, my first thought was why would I enjoy a souped-up golf cart? It was nothing like that.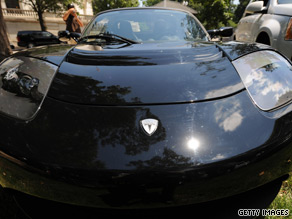 The Tesla Roadster is an electric sports car with good handling and acceleration.
I am not an auto enthusiast (I drive a Vauxhall Zafira after all) but in this job I have the great privilege of driving (or being driven in) some great cars.
Last year, I took a Rolls Royce Phantom around the grounds of the company's plant; Charlie Morgan took me for a spin through the Malvern Hills in one of his family-built cars; and now I have taken a trip in both seats of a Tesla Roadster.
There was no golf cart in site. This little sports car can move, and while we could not test the claim of zero to 60 miles an hour in under six seconds (the newest model claims under four seconds) on London's back streets, it did handle well (I had to keep avoiding a Aston Martin and a Lamborghini parked on two of the corners) and the acceleration was smooth.
It can apparently go for more than 200 miles before having to be plugged in, though others who have taken it for a test drive say that drops if it's aggressively driven.
Of course, it's an electric car, so you lose some of the pleasures of a sports car. There are no gears, so no clutch, and of course you can't gun the engine at a red light.
I also realized quickly that I gauge my driving by the whine of the engine, so you have to lose that habit quickly. Finally, and maybe most crucially, people don't know you're there!
I saw a lady with a pram walking in the road, and she had no idea there was a little red sports car coming up on her. My Tesla minder said he hoped regulators did not mandate that electric cars add an artificial noise; drivers just had to re educate themselves. I begged to differ. Watch Jim Boulden's test drive
It is the first non-subsidized commercially sold electric car approved for driving on all roads (some little electric cars can't go on motor ways for instance, others are just demonstration vehicles, built in collaboration with governments).
Tesla's current CEO and principal owner, the young internet millionaire Elon Musk, said the California-based firm had delivered around 550 Roadsters, mostly to customers there.
He was on hand at the London showroom when the first two cars arrived for the European launch party.
Musk said the company decided that the first electric car launched had to be the $100,000 sports car, to dispel any thoughts that an electric car couldn't compete with a petrol engine.
He insisted that the company would already be profitable but for investing in his much bigger ambition. A just-announced near half billion dollar loan from the U.S. government would largely be used to build the next car – a sedan (currently called the Model S).
It's expected to cost half the price of the Roadster and travel up to 300 miles on a full charge (it can be plugged in for a top up that takes only 45 minutes, says Tesla).
Musk said this next generation would be the world's first mass-produced electric car.